In this article, I am going to share 15 awesome vuejs admin template the listings will include the best premium and free Vue admin templates
Importantly, the templates are essential since they enable users to create a great admin area for their projects despite their budgets.
Despite the premium VueJS admin templates versions having extra features, for example, more widgets, pages, components and other extra features, the free options are also effective.
Noteworthy, the free options include useful functionalities hence, they are also effective despite lacking the extra features as compared to the premium version.
It is advisable to check the features of the VueJS template you want to settle for, to make sure it meets all the requirements for your project at hand.
However, you can add extra features to the templates, it is recommendable to choose a package that is a perfect fit for your project.
Furthermore, there is a need to try out the online demos of any VueJs admin template you are thinking of settling for.
Usually, this helps users to decide whether the template has the perfect look for the project and exploring different components of the template.
Below is the list of 15 awesome Vue admin templates that you can consider;
1.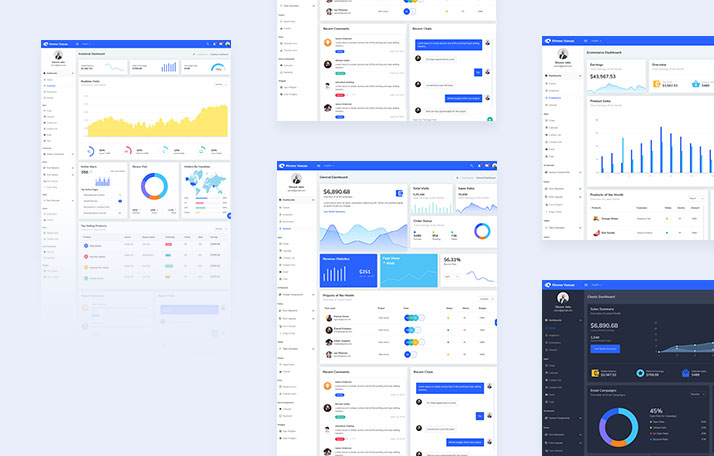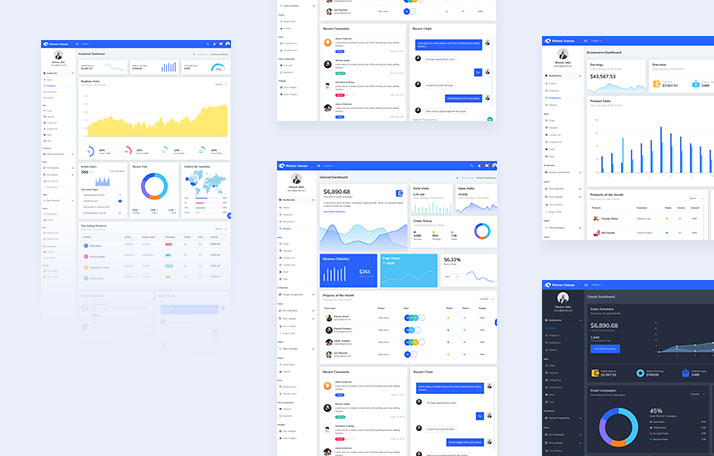 Xtreme Vuesax Admin is among the best VueJS admin templates as it is powerful and easy to use. This admin template can be used to build a backend admin panel for your project as well as that of your client. Additionally, it has features that are easy to use and customized. Lastly, this admin template can be used to create appealing applications or products.
Features
It has 6 ready to use applications.
Xtreme vuesax admin template can support multiple languages.
A user can easily customize this template.
It has a wide range of chat options.
Additionally, it has a calendar design.
It can be used in either light or dark layout.
Moreover, it has no J query dependency.
2.
This premium version VueJS admin template is built over Bootstrap and Vue. Secondly, it is easy to use in developing dashboards. Moreover, Vue Paper Dashboard is easy to use, although, users must have some basic knowledge in JavaScript, Vue, and Vue-Router.
Features
The pro version has 160 handcrafted elements.
It has 15 well-customized plugins.
Supports Photoshop files.
It has been developed with 25 example pages.
Uses the same design language as Paper Kit.
It is lightweight software hence, it easy to use.
It is completely responsive.
Additionally, it supports SASS and Sketch files.
3.
Vue Argon Dashboard is for Vue.js and Bootstrap 4. Secondly, this open-source and free VueJS template has many components that are suitable for developing great websites.
Features
Firstly, it has over 100 handcrafted elements.
Argon Dashboard has 17 customized plugins.
It is well documented, hence, users can easily find any information regarding Argon Dashboard easily.
Additionally, it has 26 example pages.
Lastly, it has a seamless development process.
4.
DevinVue is built with Vue, Bootstrap framework, and Element tool kit. Element has a set of design resources and can be used as a Vue 2.0 based component library which is used for designers, project managers as well as developers.
Features
DevinVue admin template is composed of unlimited colors.
It has a modern design.
It has both light and dark gradient templates.
Its layout is responsive.
In addition, DevinVue has bootstrap 3 3.x css framework.
Lastly, this template has Sass which is an extension of css3.
5.
Vue-ChuckAdmin is a tool that will easily enable you to find the strength and weaknesses of your web apps. This template uses ChuckCSS frame work VueJS as well as Webpack 2.
Features
It has plenty of widgets, VueJS plugins and resources.
Secondly, it utilizes Google Analytics, tooltips and datepicker.
Lastly, with this VueJS template a user can easily access navigation by use of a topbar menu.
6.
Vue Quasar Admin is built VueJS and Quasar projects which is used for single page application projects. This VueJS Admin template is free and composed of user-friendly elements that are easy to edit.
Features
Vue Quasar Admin template uses Jsonplaceholder as the backend API.
Secondly, this template can integrate the chart.js for chart render.
It can also vuelidate.js for form validations.
Additionally this admin template countup.js as number counter animation.
Lastly Vue Quasar Admin template gmaps.js for map API.
7.
Basix Admin is a free dashboard template that is crafted using Bootstrap and VueJS. This admin template will make a strong and reliable web foundation. It has elements that enable the user to create any kind of dashboard they desire. Basix Admin has features used to build a nice admin panel with less effort of the user.
Features
Basix Admin template contains 80+ components and 2000+ free icons.
Secondly, it integrates google maps, chats and form pages.
It has both light and dark versions.
It is fully responsive and can therefore look perfect in all devices.
It also has a friendly developer code.
Lastly, this admin template comes with error 500 and 404 pages as well as login and register pages.
8.
Vuestic admin template is powered by Vuejs and Bootstrap 4. Its attractive design makes use of fresh green color scheme. This free VueJS admin temlate comes with powerful and simple designs.
Features
Vuestic admin template comes with 36 elements.
Secondly, it has 18 custom icons.
It has 18 pages.
It is composed of forms, form wizards and UI elements.
Furthermore, this admin template has icons, notifications and progress bars.
9.
Vue Material Dashboard is a ready to use free VueJS admin template. However simple and straight forward to use, it requires basic knowledge of JavaScript, VueJS and Vue Router.
Features
Firstly, it has 16 hand crafted components.
Secondly, it has been developed with 7 example pages.
It allows you to customize the background image of the side bar.
It allows you to choose various color options for your background.
Lastly, this template comes with a detailed user profile, table list and maps.
10.
Sing App Vue is developed with VueJS 2.5.2 and Bootstrap 4. It has a program which will boost speed, quality and maintain website applications. Moreover, this admin template can be used to build various web applications which include SAAS, asset dashboard and tracking software.
Features
Sing App Vue admin template has charts library.
Secondly, it is composed of an E-Commerce section.
It is completely jQuery free.
It also has a fully documented codebase.
Additionally, this template is developed by VueJS 2.5.2
Lastly, Sing App Vue Admin template is fully responsive
11.
Pragmatic VueJS Admin Template has responsive design built with VueJS and Element. It is composed of analytical, crypto and eCommerce dashboards. This template can reinforce your creativity to come up with a special project.
Features
Firstly, it contains eCommerce pages.
Pragmatic VueJS Admin Template offers 8 color schemes that you can choose from.
It has 2000+ font icons.
It can support multiple languages.
It is easy to customize.
It has 70+ layout combinations.
Lastly this template allows for diverse options for placement of menu.
12.
Cubic is a more practical and effective admin template that is tailored to provide an easy and effective use. It has also been built to transform your apps into an effective, friendly and useful project.
Features
Firstly, Cubic admin template has 4 dashboard variations.
It has an eCommerce version included.
Its also composed of 12 pre-defined color schemes.
This admin template has 800+ Font icons and 50+ intergrated plugins.
Additionally 70+ pages and 200+ UI items.
Lastly, it has a multi file upload system.
13.
Vuetify Admin Dashboard is a modern and free VueJS template that is built using Vuex and Vuetify. With this admin temlate a user is able to devolop a dashboard easily. It also allows editing of sidebar image, logo menu and footer.
Features
Firstly, it has a powerful edit form builder which can edit or display any form of text or image.
Secondly, it has a view chart JS built in.
Vuetify admin dashboard is highly configurable with dark or light themes and side bar images.
It also has a full support for REST Api's.
Lastly, this template has powerful crud data table which can sort, page and display images.
14.
Coga is among the powerful VueJS admin template built with vue 2 and vuetify. It comes with a range of color versions along with the dark mode which allows for flexibility. Its design is simple and a has a multiple components that are useful to your proect.
Features
Coga VueJS admin template can support all browsers.
Secondly, it has useful widgets with stunning UI elemnts.
It can also be easily customized.
Additionally, this template has 4+ special dashboard layout.
Furthermore, this templates has pages that include blank, login, password and register.
15.
Vuely admin template is widely used by many website developers across the world because of its intresting features. It is built using VueJS 2 and Vuetify js. This template alsocomes with a range of versions that include VueJS laravel and VueJS laravel passport version.
Features
Vuely comes with 6 interesting demos for different dashboards.
Additionally the demos are handcrafted with an aim of producing an essential admin template eCommerce, magazine and news.
This template has 200+ UI elements and 78+ custom widgets.
It also has 1500 font icons.
Furthermore it has an inbuilt multi language support with RTL.
Conclusion
I hope this article has been of great help too in your search for the best Vue Admin template. The list has been comprehensive since it includes both premium and free versions well discussed. Lastly, it is advisable to check the online demos of the templates that you think like considering. You are free to share this article with your friends. Always, visit our site for more related articles.