Do you want to be an expert in running your online business? Is it crucial for you to be a perfect administrator and know everything that happens around you? In this case, you can always turn to various multi-functional admin templates. It is perfect for creating powerful dashboards, professional-looking back-ends, and admin panels for apps. Get familiar with these admin templates and their basic functions.
MaterialPro Bootstrap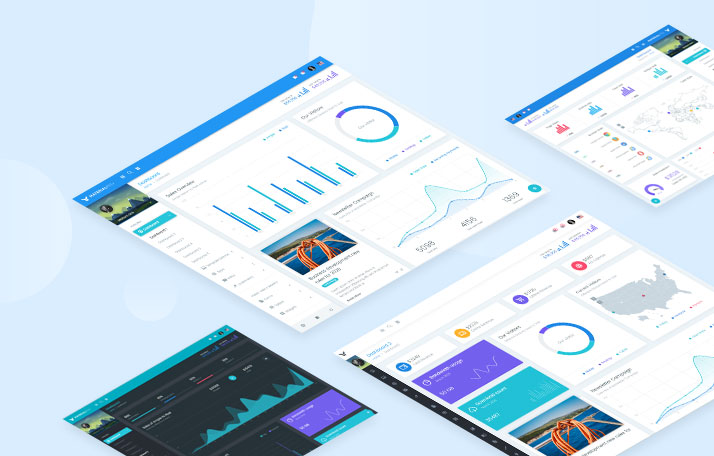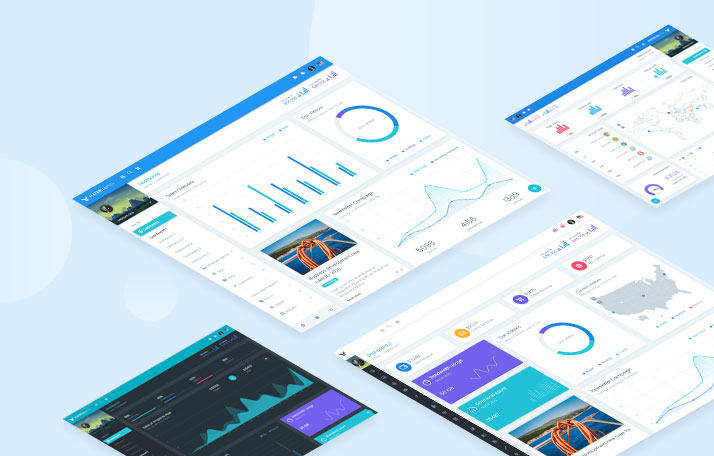 MaterialPro Bootstrap is a modern and advanced dashboard template that provides all the necessary elements in the package. with 5 Demo Variations, 6 Dashboard Variations, 100+ Integrated Plugins, 600+ Pages, 3000+ Font Icons, 500+ UI Components & much more. Yet, there are nine ready-to-use variants available in the package. In addition to this, it is possible to choose from twenty color schemes. It will also work on multiple devices, thanks to a fully-responsive design.
CRM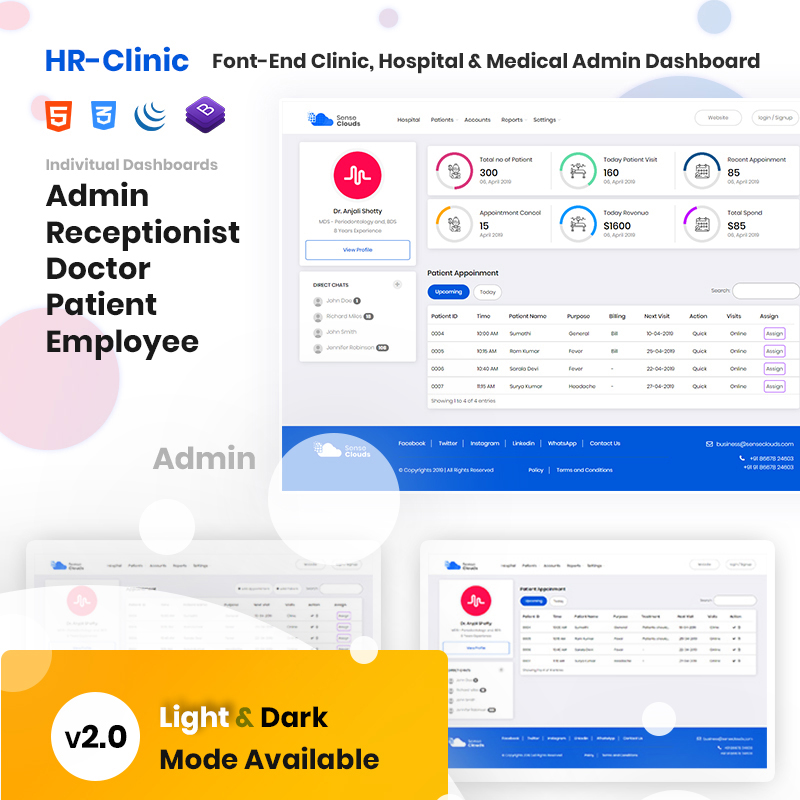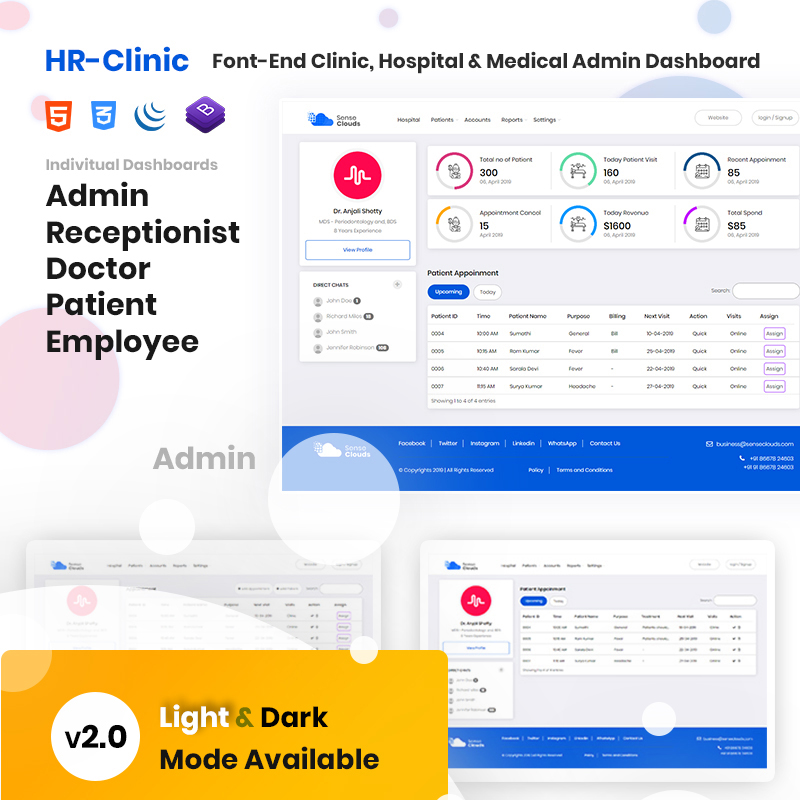 Are you looking for some admin templates connected with dental website design? In this case, you can choose this purpose-oriented design. It provides a fully-responsive design that you can view on different devices. The package has lots of unique features crafted for the previously mentioned topics. As an example, you can work with appointment forms, accounts, payrolls, and other options. There are also such crucial modules as my activities, salary, and employees.
Fiori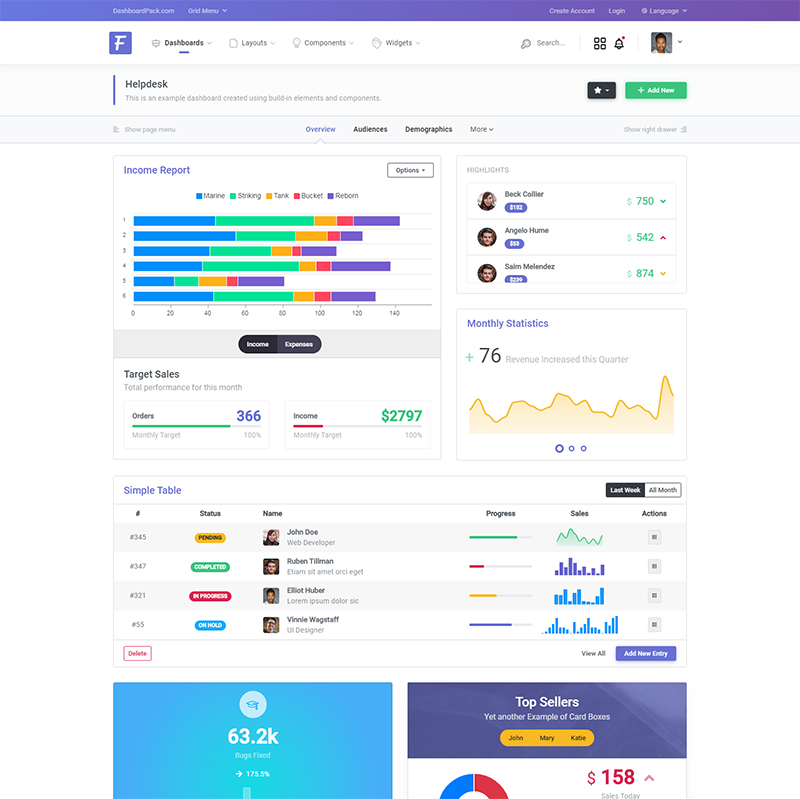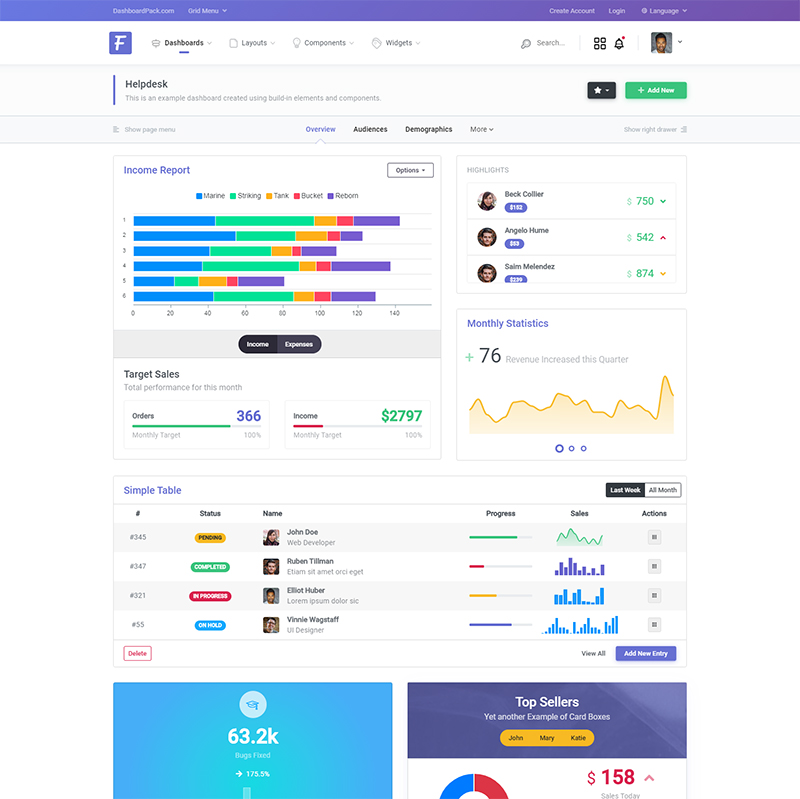 Fiori is another dashboard template that might meet your needs. It has a horizontal layout that allows focusing the attention on main pieces of content. There are also many easy-to-implement layout options. You can work with color variations crafted for your layout components. The package also allows choosing from a fixed and static header and different styles for sub-navigation menus. There are 9+ dashboard types that make it possible to merge the existing parts from them.
Clove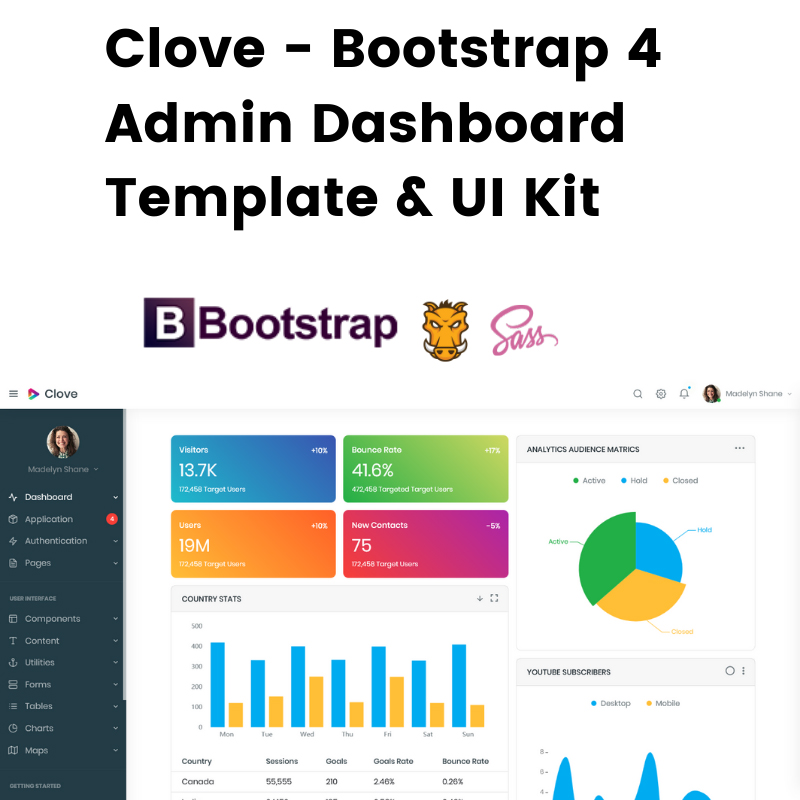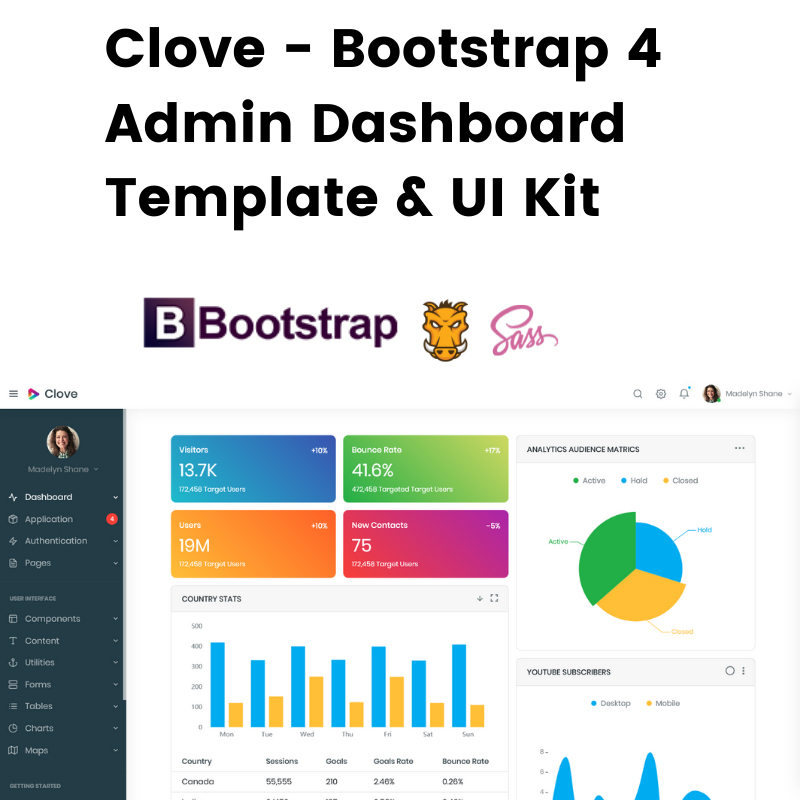 You can also pay your attention to this multi-functional choice from the collection of admin templates. It is going to work correctly on all modern browsers. Without a doubt, you can work with a set of pre-built materials. First of all, you can choose from five dashboard variants included in the package. There are also 60+ HTML pages that make it quicker to craft your online-project. Do not forget about multiple reusable elements, app examples, profiles, and other options.
ArchitectUI Vue PRO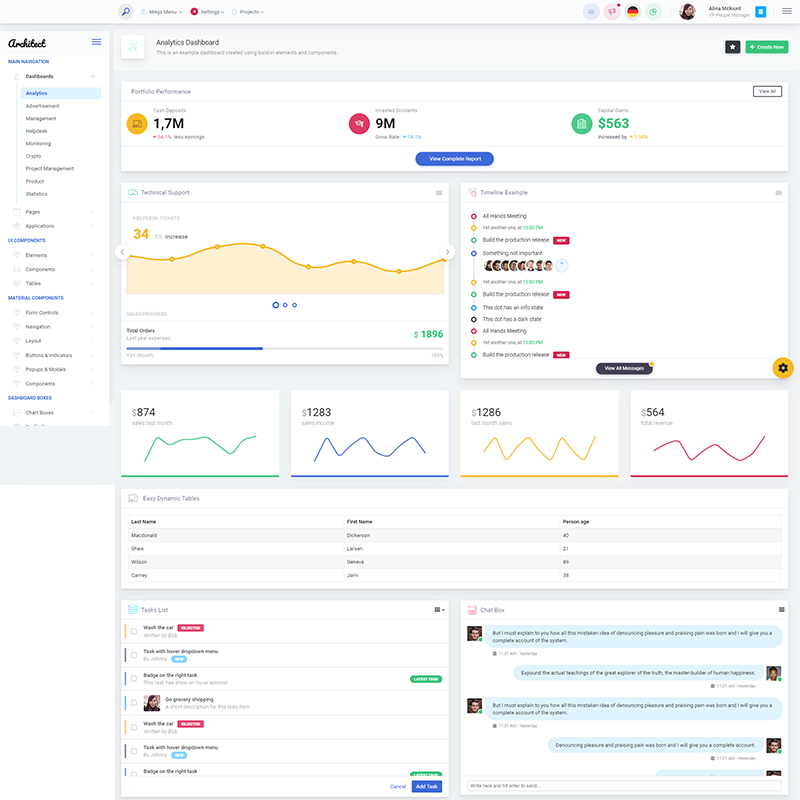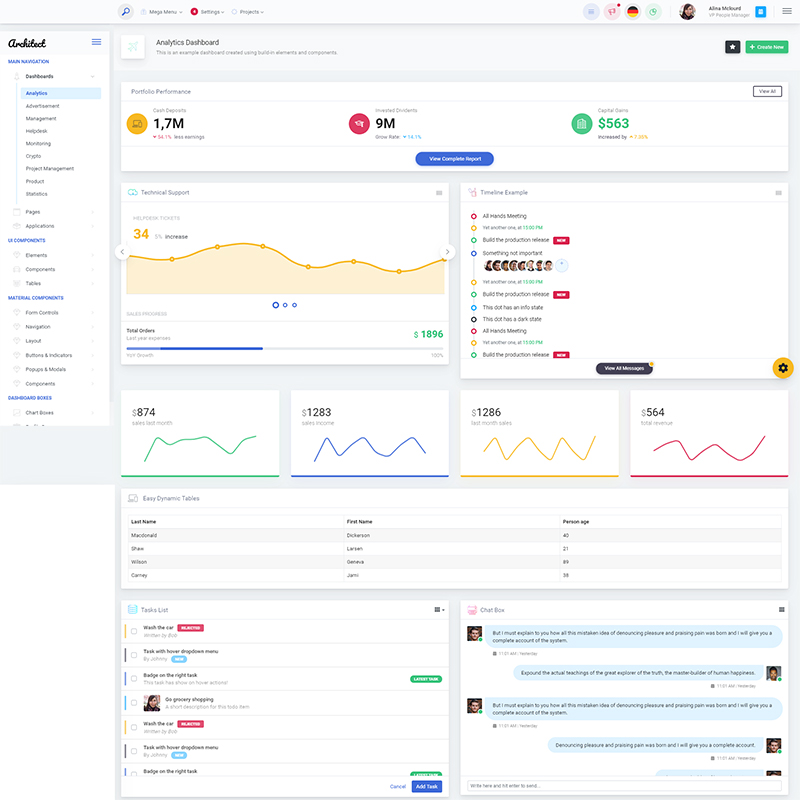 Check out this dashboard app kit that can assist in you building the desired online-project. It comes together with 50+ widgets and components that you can mix in an easy-to-use manner. However, keep in mind that you need to have some basic coding skills to work with them. Furthermore, there are nine dashboard variations to choose from. You can also look through nine color schemes to find the most suitable one for your dashboard.
MonsterAdmin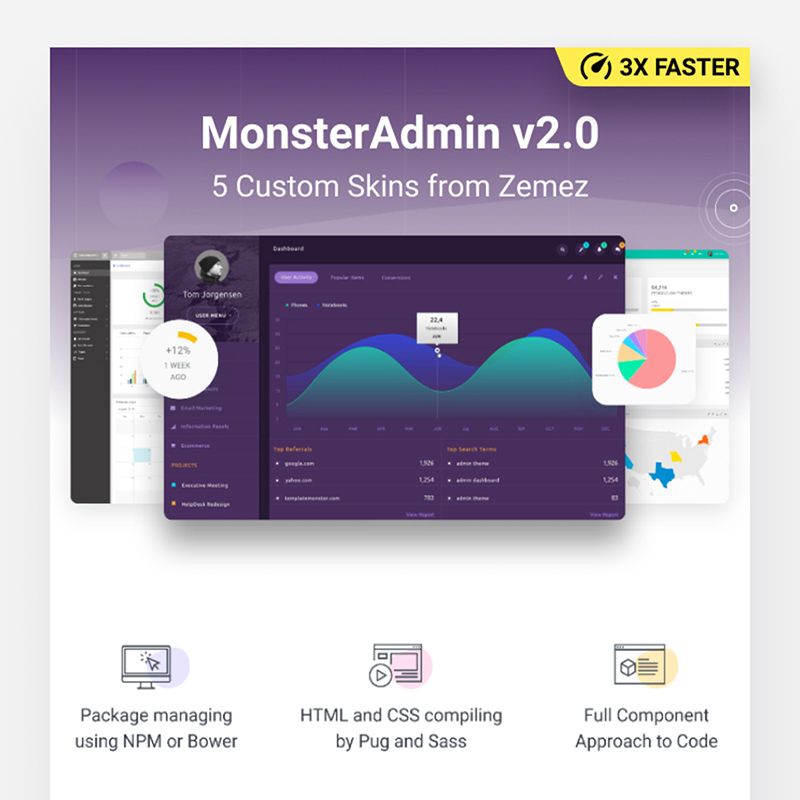 Get familiar with this ultimate example of admin templates. It offers an unmatched range of functionality that allows creating a perfect dashboard. Thanks to a highly-responsive design, it takes nothing to view it on different types of devices. You are also going to get 20+ HTML pages and 80+ components. The package also includes 30+ plugins and graphs. Among them, you can find multiple image tools, form plugins, and content editors.
ArchitectUI Angular Free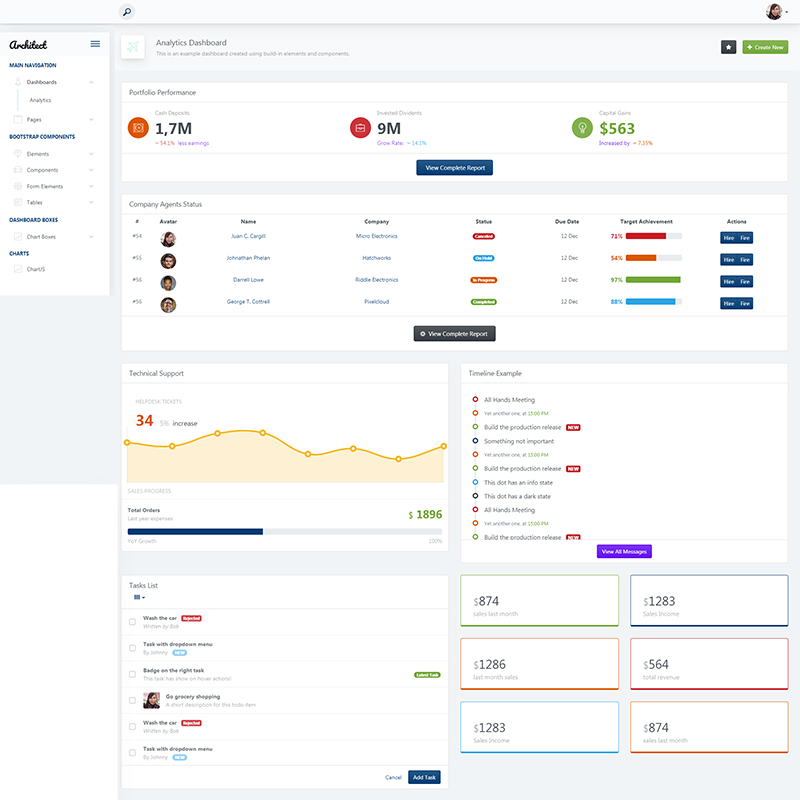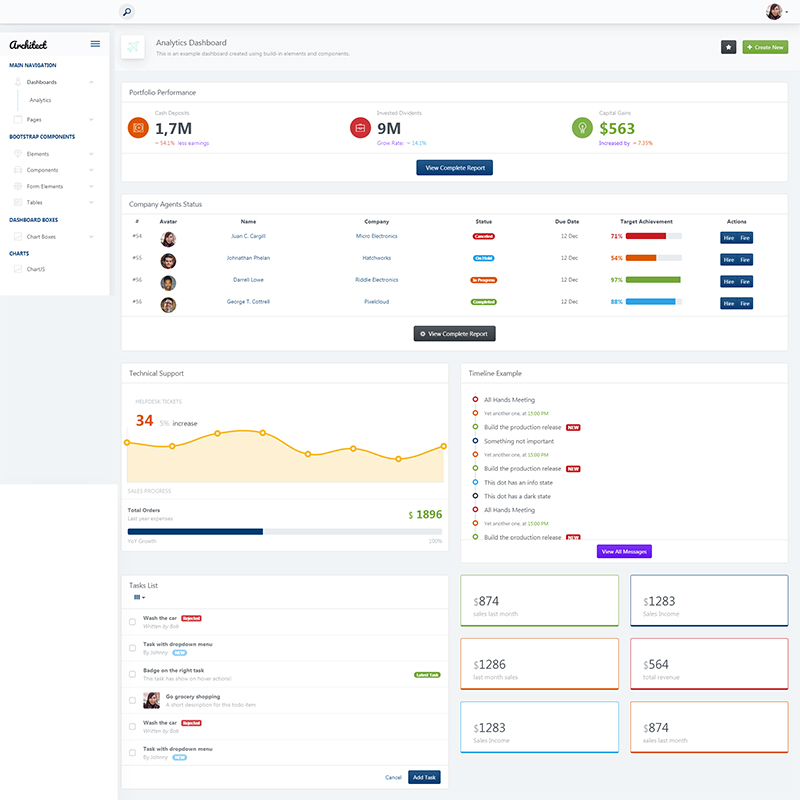 Does your budget not allow purchasing a variant from premium admin templates? In this case, you can turn to this free and open-source version. It includes a set of beautifully-designed elements and components. Together with them, it is effortless to start developing your application. It provides a fully-responsive layout that people can browse using a large number of devices. Moreover, you will get a chance to choose from ten color schemes for both elements and layouts.
Neon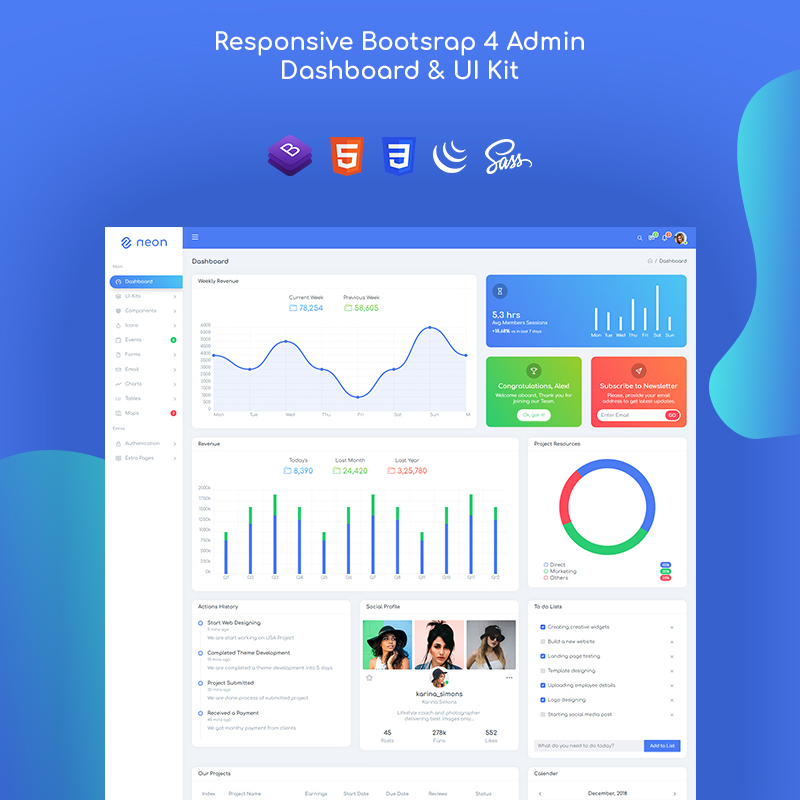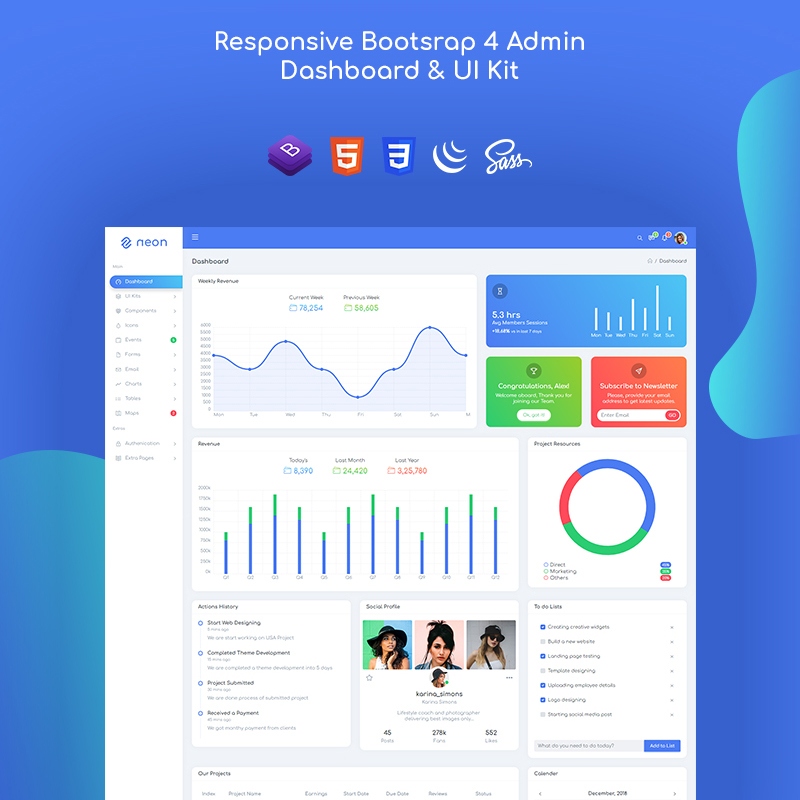 A fully-functional dashboard template that provides a web-developer with all the necessary flexibility. He or she gets the opportunity to customize its elements in the most eye-catching way. The package consists of three dashboard variations. There are also 80+ inner pages and seven modern icon sets. Using them, it will be quicker to create a dashboard that suits your vision. You will also get different creative widgets and useful plugins to simplify your work.
Papermint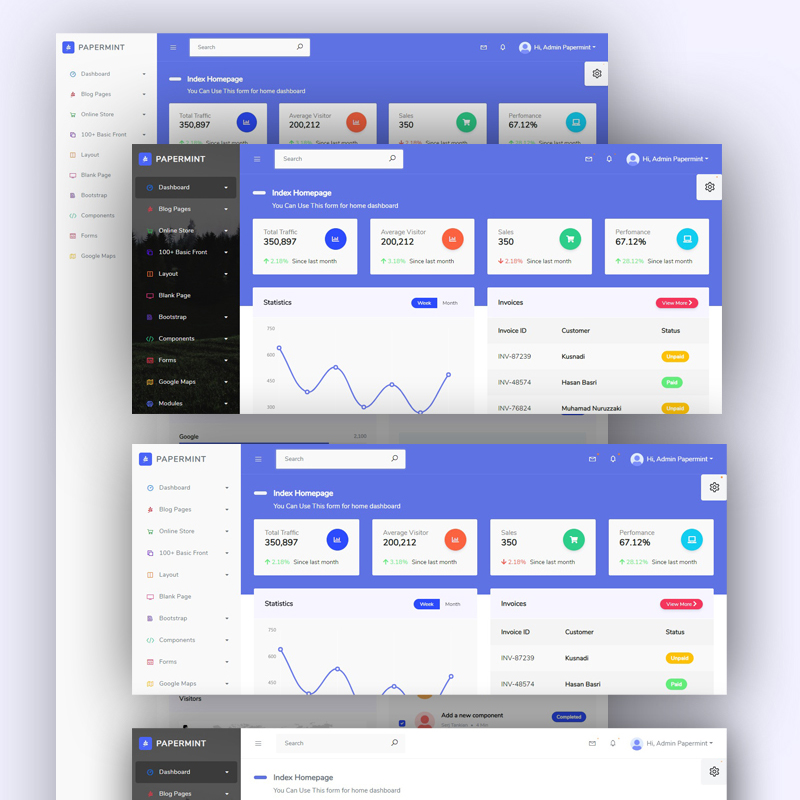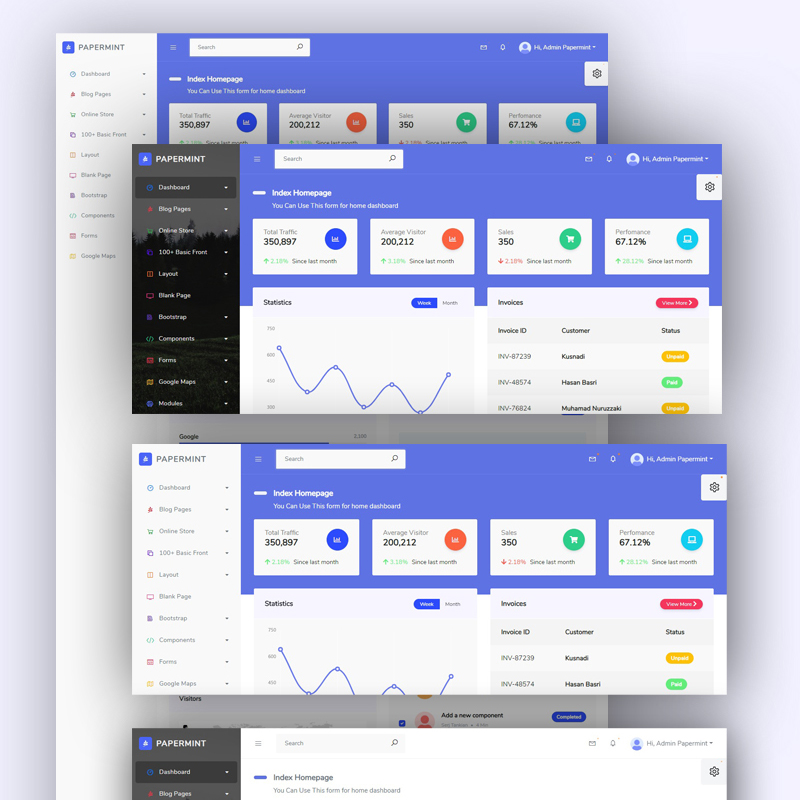 Papermint is a marvelous choice for those who are looking for some well-organized admin templates. You can choose from three dashboard variants that should match your taste. It is possible to display a blog on your online-project and share some additional pieces of information. You can also add an online store, thanks to the availability of different relevant components. The package provides lots of helpful modules and forms that make it more comfortable to use your admin panel.
GreenDesk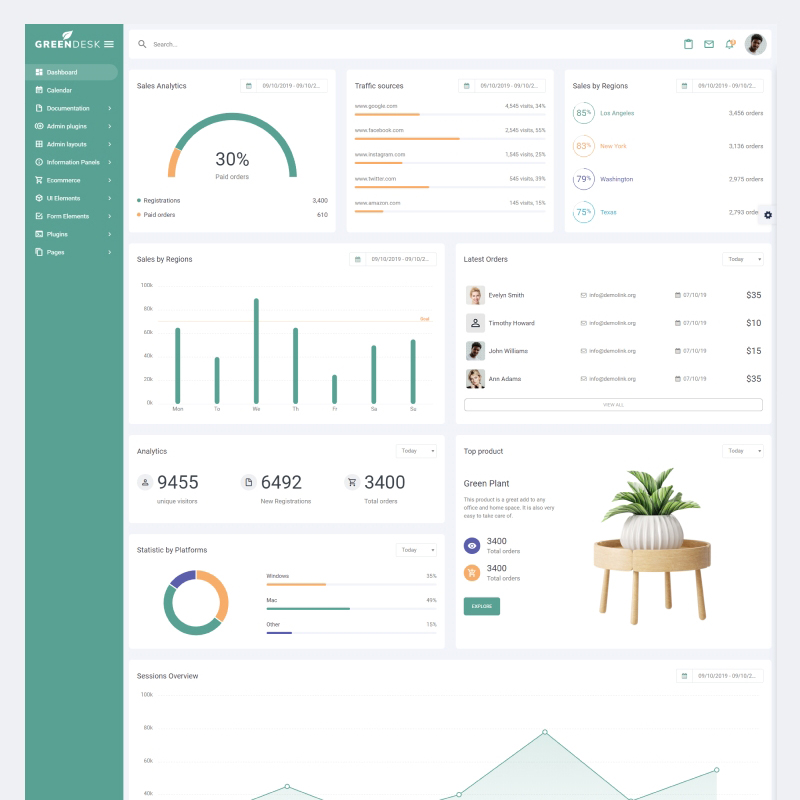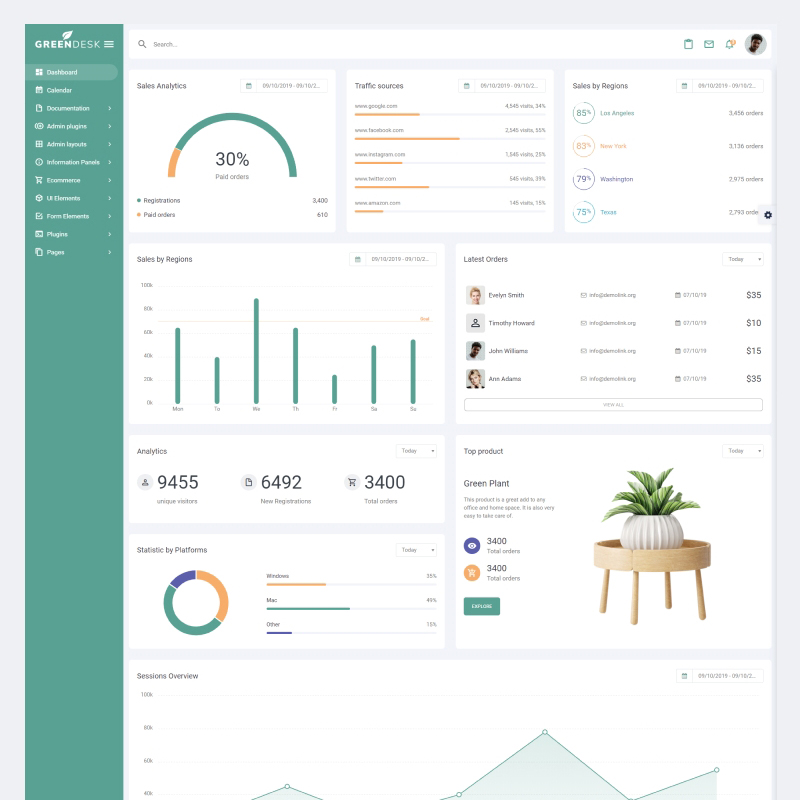 This fully-fledged template is an excellent tool to keep your eye on your website and its statistics. Thanks to the easy-to-use nature, you do not need to have any coding skills to make edits. It is also possible to add some new plugins and elements if you need them. Do not forget that many eCommerce options are available in the package. Thanks to them, you can customize your online store, add new possibilities, and learn more about your customers. Graphs and lists will present your statistics at their best and allow working on different improvements.
Atlantis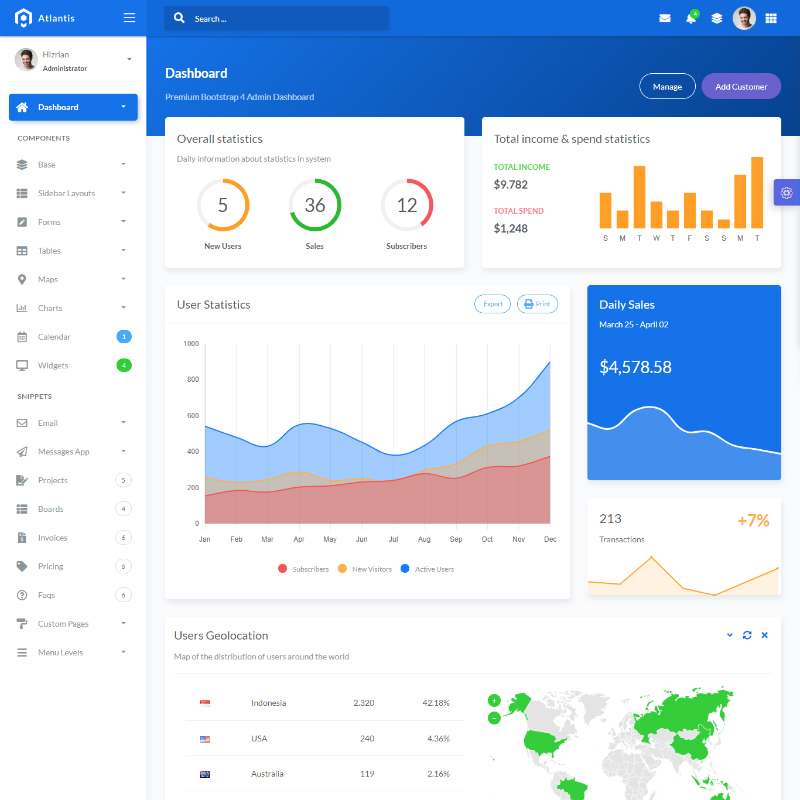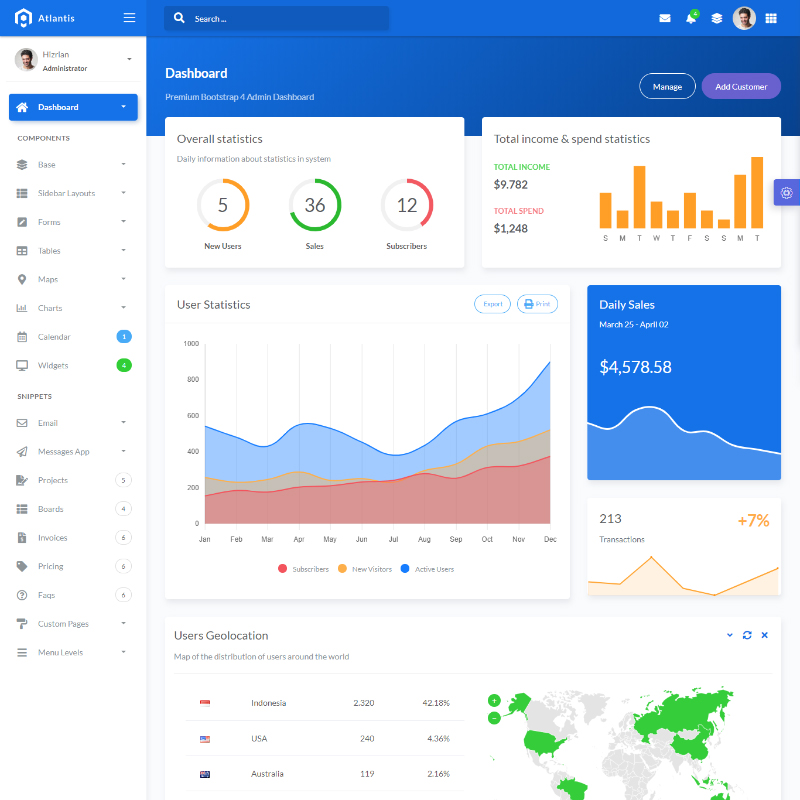 A beautifully-designed and elegant template crafted to manage and visualize data about your business. This stunning example of admin templates provides an impressive number of relevant tools. It has nine layouts and 26 plugins that allow realizing your ideas in the brand-new dashboard. Using them, you can do this quickly and efficiently. You will also get different applications that can enhance the functionality of your dashboard. These include email, messages, boards, projects, and others.
Booster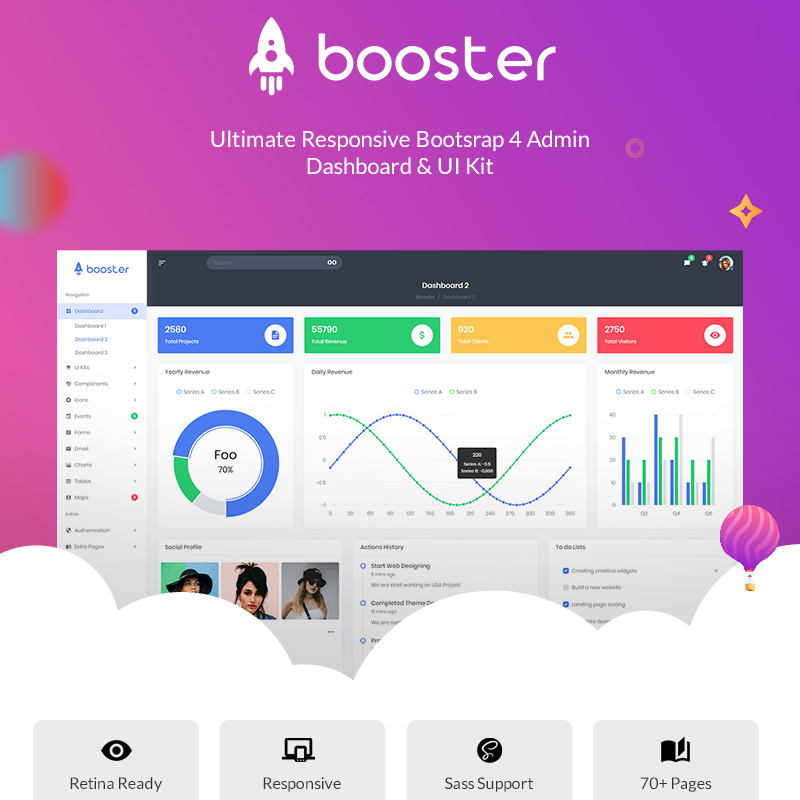 To boost your dashboard, you can opt for this eye-catching and advanced template. It has a flexible nature that makes it possible to personalize all the essential parts. The package has three dashboard types that allow implementing your ideas into life. There are also 80+ inner pages and seven icon sets that will make your online-project more structured and attractive. In addition to this, you can choose from a vertical and horizontal layout.
Datta Able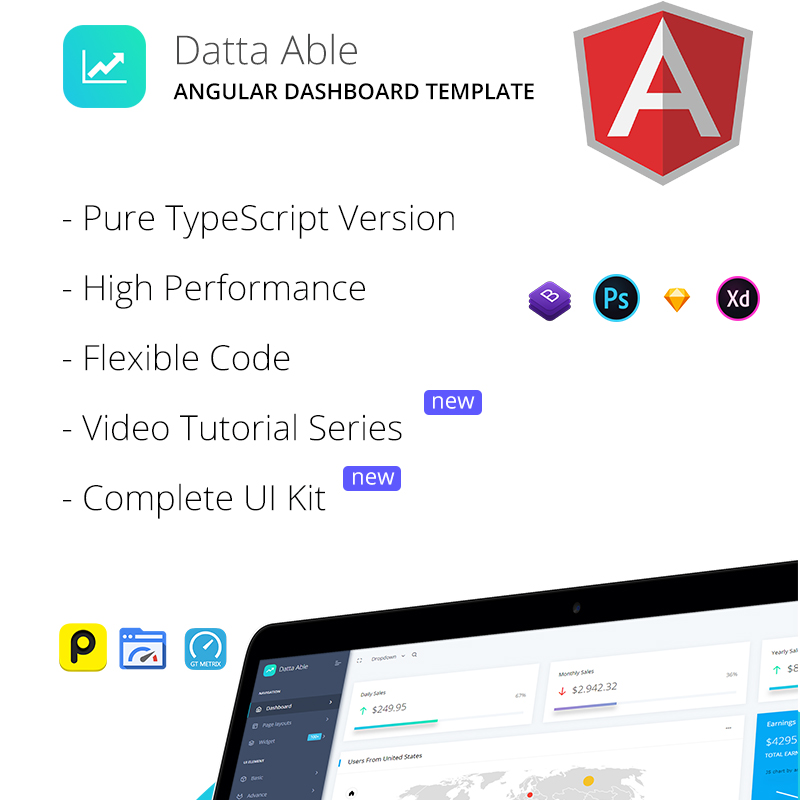 Datta Able is an excellent template that provides a broad set of options for your dashboard. Let us highlight the most important ones and understand how you can benefit from them. There are 20+ page layouts that allow making your dashboard more well-organized. You can customize them as your soul wants and choose the elements more suitable for your online project. Do not forget that it has a fully-responsive design that allows browsing your dashboard through multiple devices.
ECab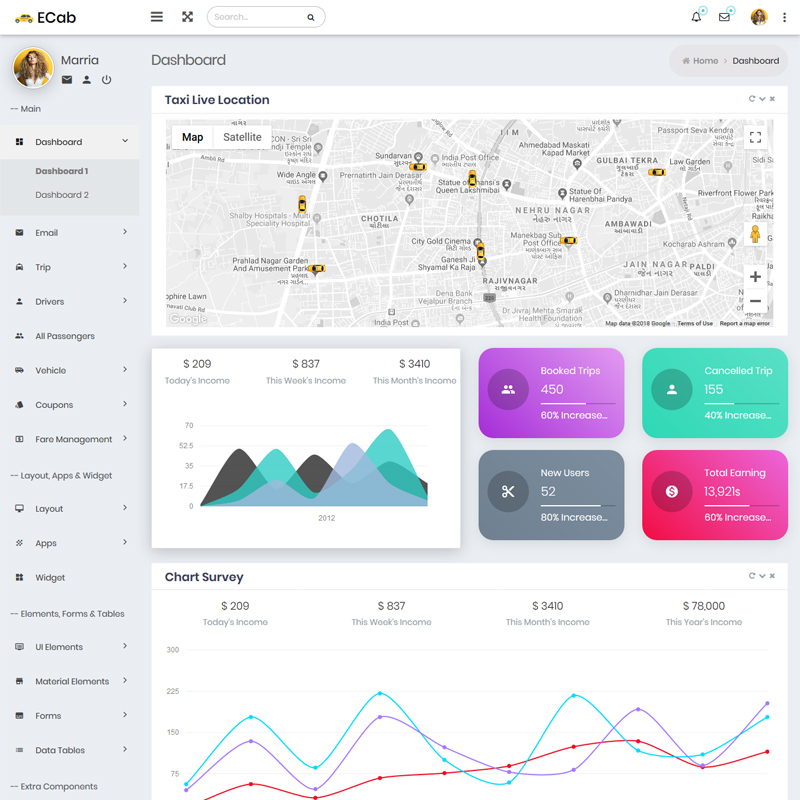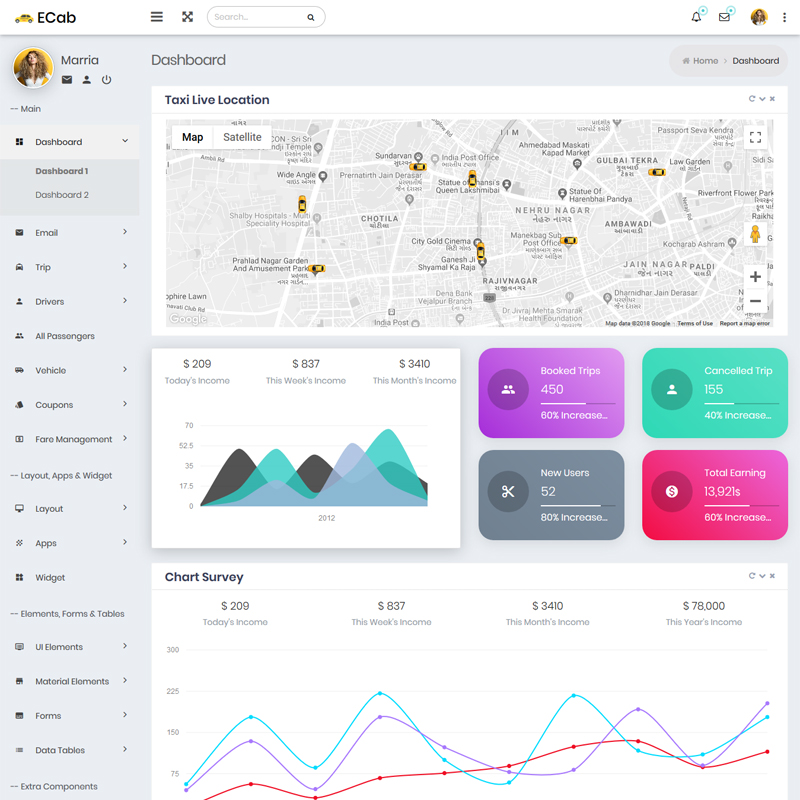 This admin dashboard template is one of the best choices for those who have a taxi or cab business. It provides a large number of reusable components. You are free to choose from two dashboard types and understand which one is more suitable for your online project. Unlimited color options are perfect for your imagination because they allow realizing your ideas. You can also work with five layouts crafted for the desktop version for your dashboard.
Ready Pro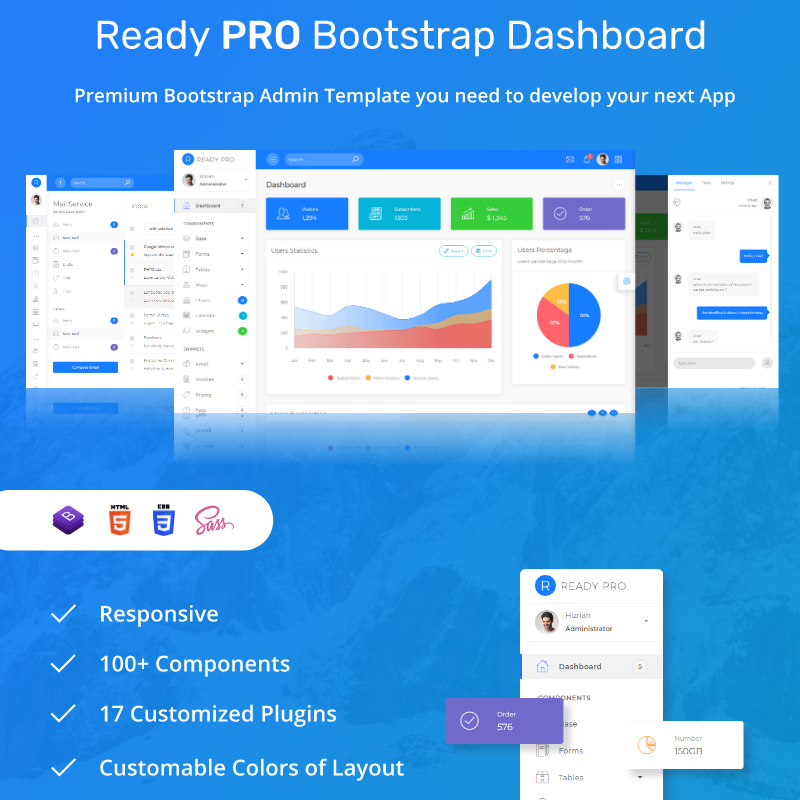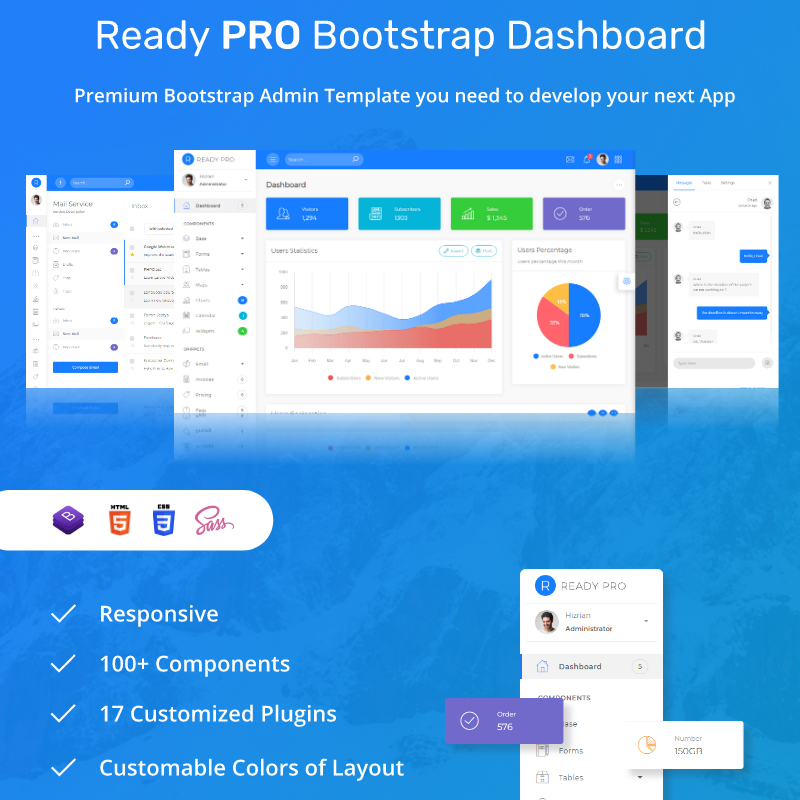 Ready Pro is a premium dashboard template that allows developing your app in the minimum time. It has a fully-responsive design based on Bootstrap that people can view on different devices. There are various background color variations that allow making your online-project look more original. There are also 34 example pages and 17 customized plugins that will make your dashboard more powerful. By the way, it takes nothing to customize it and add all the necessary elements.
Conclusion
I hope this article has been of great help too in your search for the best Admin templates. The list has been comprehensive since it includes both premium and free versions well discussed. Lastly, it is advisable to check the online demos of the templates that you think like considering. You are free to share this article with your friends. Always, visit our site for more related articles.