When it comes to site-building, you can't skip working with its admin panel. All in all, the dashboard is the central part of any online project. No matter which business niche you cover, it requires special attention. But what should you start with? In this post, I'm going to tell you about all the essentials a progressive dashboard should have.
5 Reasons You Need A Pro Dashboard
Why do you need to work on the project's admin panel? Without a doubt, the modern Internet offers many static site generators. However, a smartly crafted dashboard is much more than a way to see stats. Below I've listed the main reasons why you need a pro dashboard.
You have instant access to any critical details.
With it, the site owner can easily pull vital info from an app or software.
It is simple to analyze your audience to find out customers' needs.
You can consolidate info all across the company or project.
It is easy to notice and showcase the progress.
To sum everything up, you can improve and further the management process with the right dashboard. And how to get it? Check out the selection below of admin dashboard templates. It will show you all the essential elements to look for.
Perumnas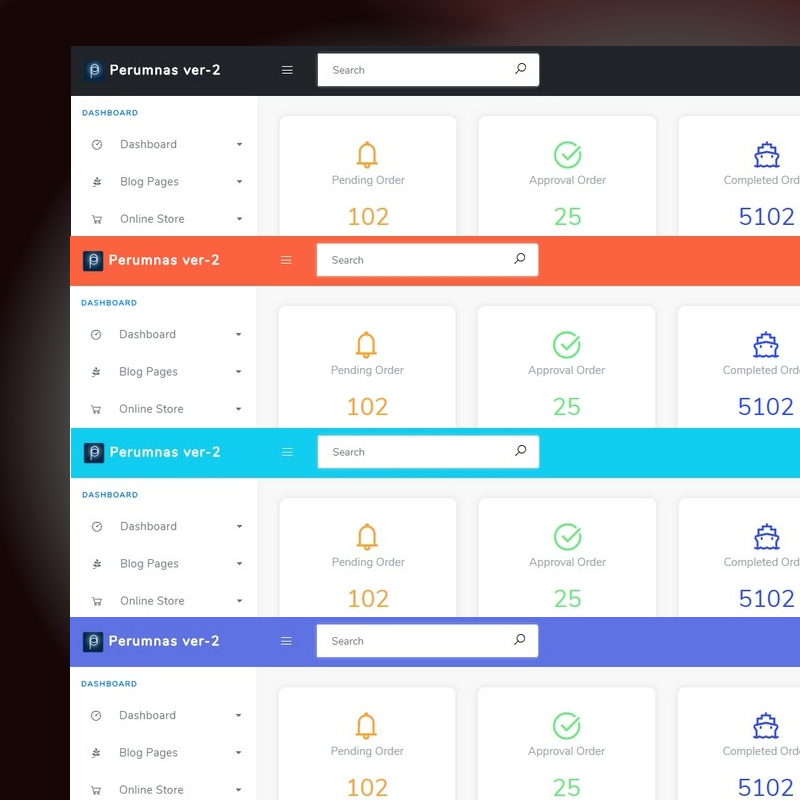 Before everything else, by choosing this Bootstrap admin template, you get a cool bonus. There will be over 100 free HTML templates for you. So what are waiting for users inside the Perumnas package? No secret, it is easier for prospects to understand and remain visual information. That is why I recommend you showcase critical details with the help of visuals, like counters. Here are the ones you get with the template:
Pending Order,
Approval Order,
Completed Order,
Canceled Order.
These widgets are very simple in customization. They come with rich settings so that you can create your counters rapidly.
MonsterAdmin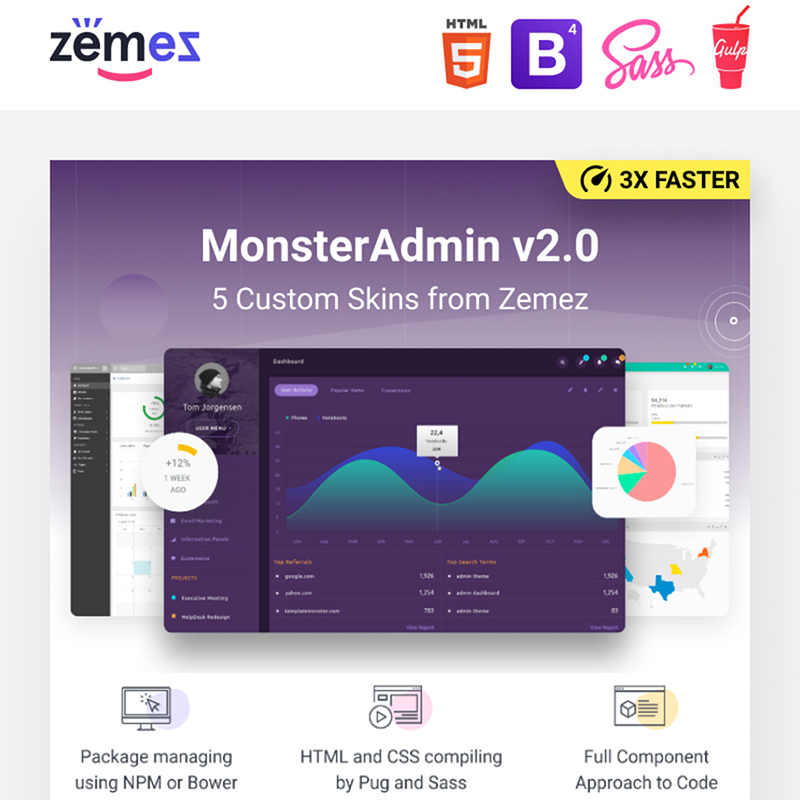 Nowadays, most project owners are looking for all-in-one bundles. These complete sets are popular simply because they come with all essentials. Besides, you can save good money by purchasing site components in a package. Here is what you can do by choosing the MonsterAdmin Dashboard Bundle.
Track user activity by age, country, month, device, etc.
View out the most popular items.
See top referrals and top search terms.
View regular reports.
Check out total order growth, sales increase, unique visits, and much more.
Neon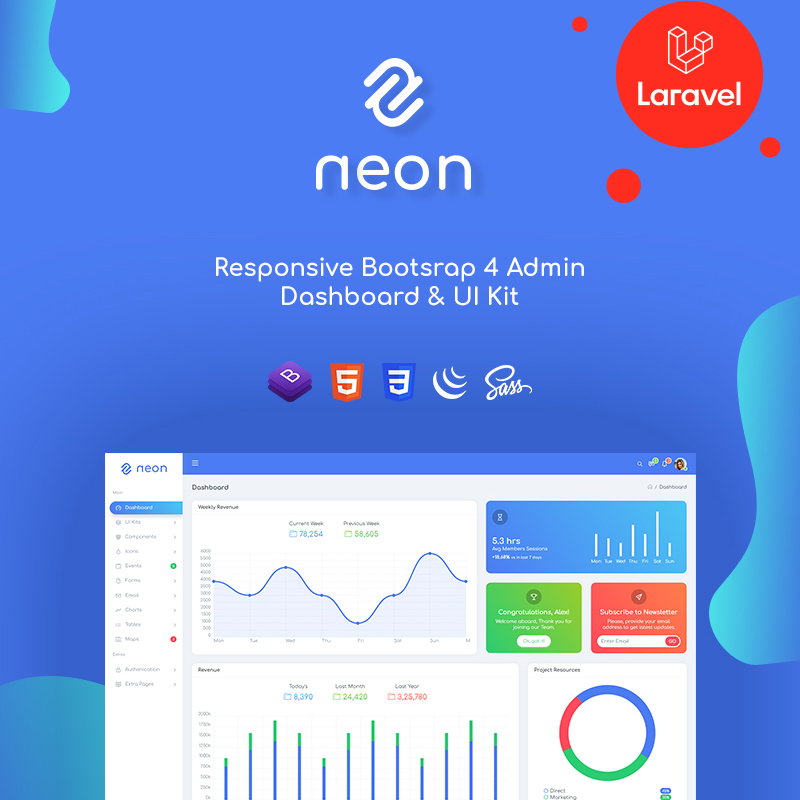 To start with, Neon comes with several live demos, including the next:
HTML Version with vertical & horizontal layouts,
Laravel Version with a vertical layout,
PHP Version with a vertical layout.
No matter which demos you are about to choose, there will be plenty of features inside. For example, you have Weekly Revenue with graphics. Plus, there are Members Sessions to see the average time spent on your site. Besides, you get the Newsletter Subscription widget that is easy to tweak, Project Resources, To-do lists, and more.
Booster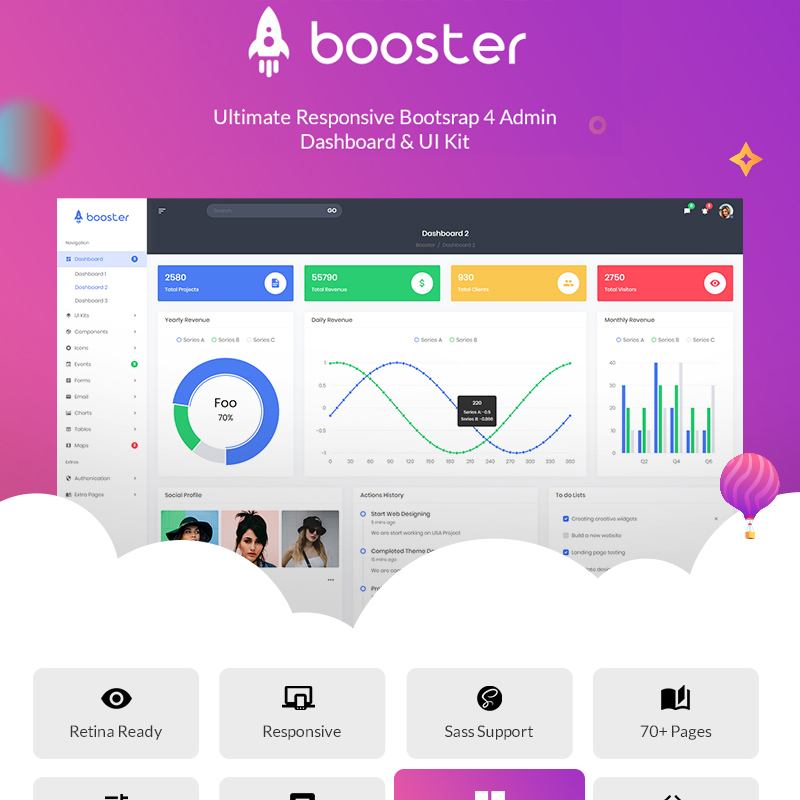 Here is another Bootstrap & Laravel template for a classy admin dashboard. It is wholly responsive and comes with multiple applications. And what is inside the set? You have three demo packs to select. Each of them contains complete sets of must-have UI & UX elements and trendy components. You get custom pages, widgets, charts, and extensive layout options.
When it comes to the Booster features, you can see:
70+ Pages,
Multiple Layouts,
Simple Customization,
Retina-Ready,
Events, Charts, Icons,
UI Kits.
Ready Pro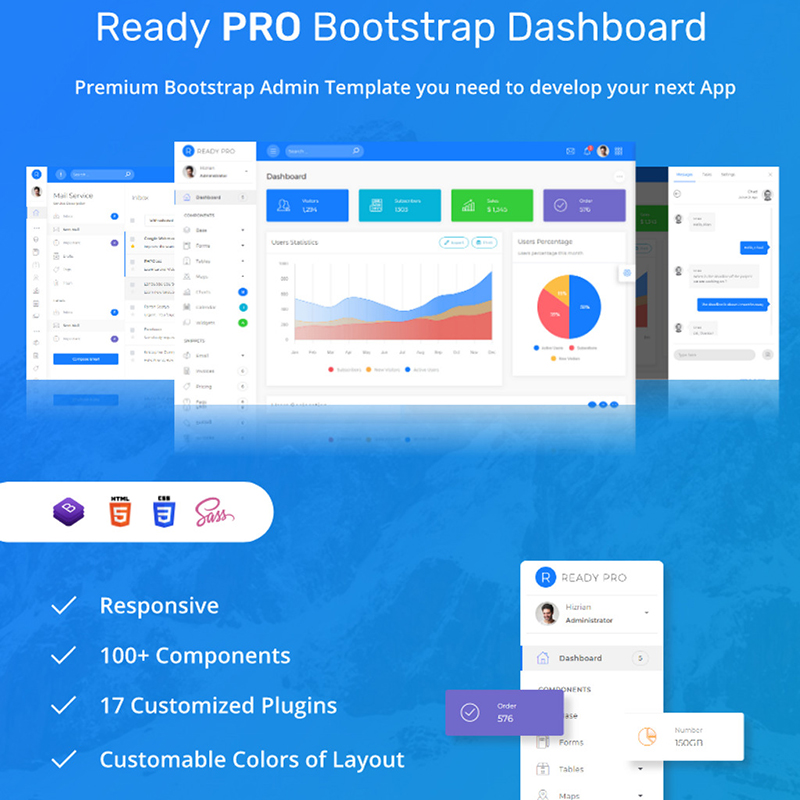 Long story short, Ready Pro comes with tones of smartly designed components. They are app-oriented so that you can grab the prospect's attention quickly. All the layouts are 100% responsive. In a word, the theme provides one with:
100+ UI Elements,
34 Example Pages,
17 Easy-to-Customize Plugins,
Sidebar Options,
Calendar Widget,
Maps & Forms,
Intuitive Search.
Datta Able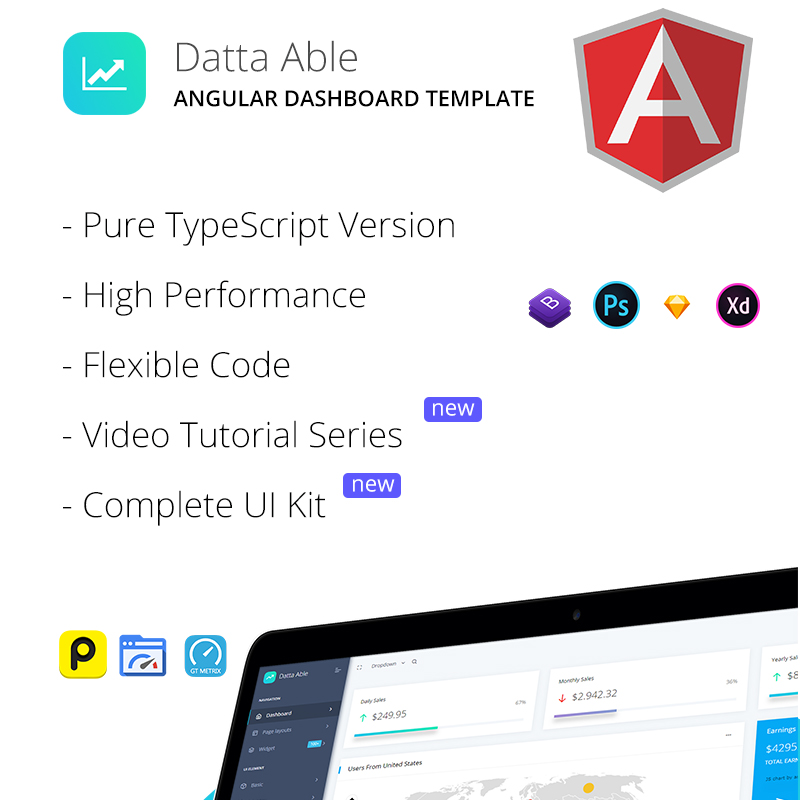 Don't miss this item, in case you are looking for a flexible code and high online performance! Datta Able comes with a clean, bright, and lightweight design. It is eye-catching enough to attract your would-be-clients. And you have lots of prebuilt color combinations. Thanks to a creator-friendly code, it will be easy to play with the theme settings. You can select various page styles or tweak color schemes. What is more, you can change advanced settings in real-time mode.
ECab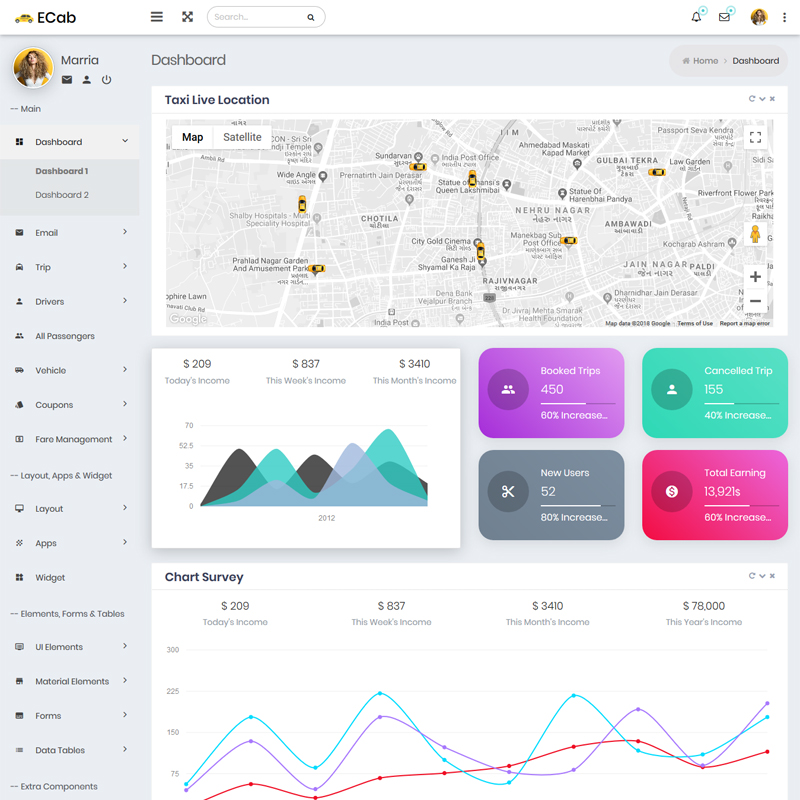 As the name of the point promises, ECab is a ready-made solution for taxi & cab related needs. What does it mean? Basically, by purchasing ECab, you get both a modern web app UI kit and an admin dashboard template. The product comes in 2 demos: Driver Demo and Admin Demo. Both of them have light and dark versions you can change in 1 click. Here are the pre-styled pages ECab contains:
Chat & Email,
Calendar,
Contact Grid,
Gallery,
Support & Timeline,
Profile,
Pricing.
Zero Admin Template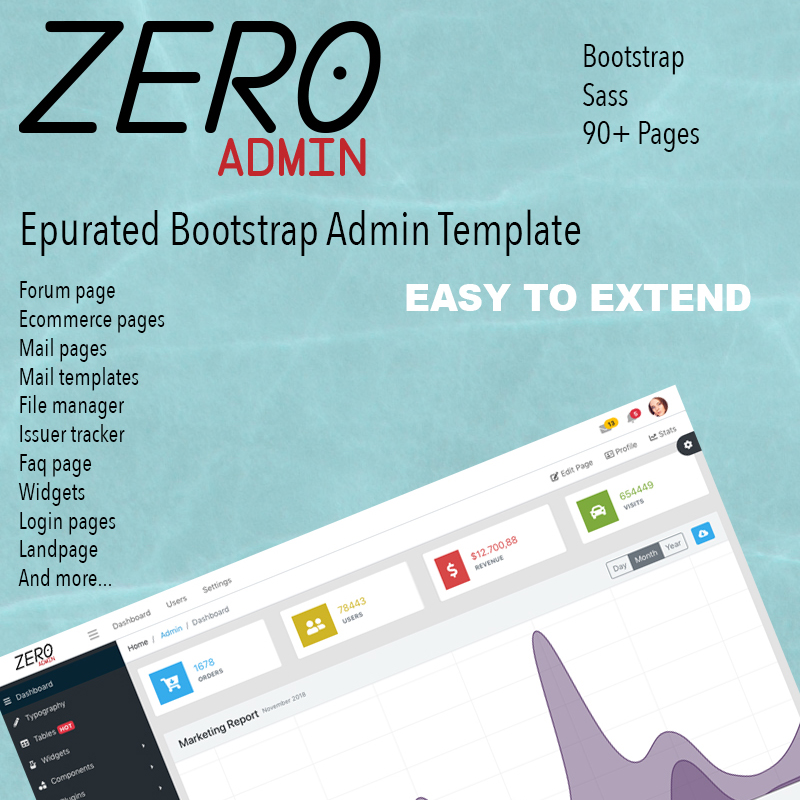 Would you like to view out more templates to craft a perfect admin panel? Don't pass by this item tho. When working with the Zero Admin Template, users can track referrer traffic with all the details. Plus, you can view out organic search details as well. Besides, with its help, you can easily do the following actions:
Check out SM stats for your FB, Instagram, Twitter, and Pinterest accounts.
Figure out which products are the primary and secondary ones.
Showcase mobile distribution, including IOS, Android, etc.
Mobile vs desktop site usage compare.
Datta Able
At the outset, by selecting the Datta Able Bootstrap Admin template, you get several demos:
Main Demo with Live Customizer and Layout Export,
Master Sidebar with updated functionality,
Advanced Layout with Background Pattern and Background Image,
Gradient Layout with 20+ Gradient colors,
Light, Dark & Horizontal Demos, etc.
To say more, with this theme, you have Mini Collapse Menu. On average, there are 130 pages and over 30 layouts. Plus, there are Boxes, Sidebars, and many other helpful elements, including:
Data Table,
Ratings,
Badges & Alerts,
Tabs & Pills,
Editors, and more.
Madmin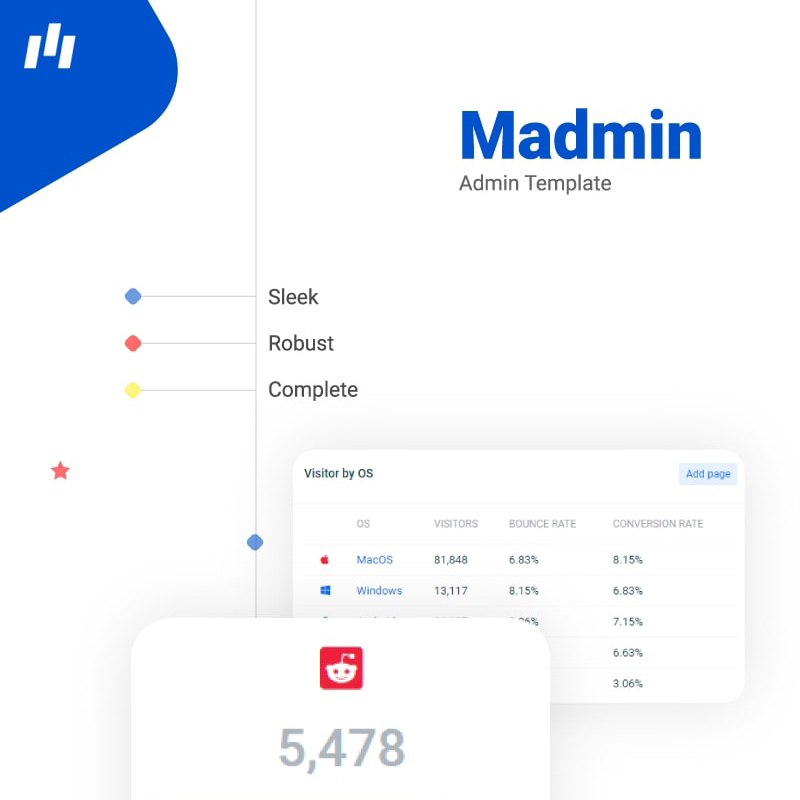 Initially, Madmin is a Bootstrap 4 dashboard template with a fully responsive design. It has six demos to choose from, including light, dark, horizontal, and vertical. Also, every demo comes with a set of must-have page, like Gallery, Contacts, Registrations, or Login. Besides, you get one-page email one-page chat features. They are essential for any project.
Back to the product features, Madmin contains the following:
50+ Widgets,
Cool File Management,
1000+ Helper Classes,
Great Search Approach,
Simple User Interface.
In Closing
As you can see, these were all the digital products I wanted to review in this post. All these templates come with powerful elements needed for any modern admin panel. The thing is that no matter what project you are going to run, it is essential to take care of its dashboard. All in all, it is the basis of any website. So how to make your dashboard work on you? View out my checklist below. Here is what any professional dashboard requires:
Rocket-fast speed,
Simple & creator-friendly interface,
Lightweight design,
Available to export data,
Strong user management,
Billing & transaction info,
Visual elements.