Creating an impressive website from scratch is a real challenge for someone who sets his mind on starting a business. It's one thing to understand that you need an established online presence, and it's another to bring to life the visual representation of your brand.
When one does it right, the effect can exceed the expectations but treat it poorly, and it causes more damage than good. The PSD design templates make it a bit easier to head in the right direction.
The question is, how do you pick the best one for your particular needs? The obvious answer is that you have to know what things and features you want to highlight and bring to the forefront.
The great PSD template is a cross between a catchy design and well-thought-out functionality. It's an adjustable scheme that you get to fill out based on your vision and purpose. The next top ten to try out are suitable for many industries and scenarios, go for the most appealing option, and you'll have the starter kit to explore.
Let's start with why this template for Photoshop is ideal for something connected to the web-design, marketing, or anything Internet-related. It offers one home page and eight additional ones to play with, all of which are entirely customizable. Creating photography website becomes a process in which you need to invest money and effort. As the business develops, you can tweak and redesign the site to adapt it to the ever dynamic field of activity.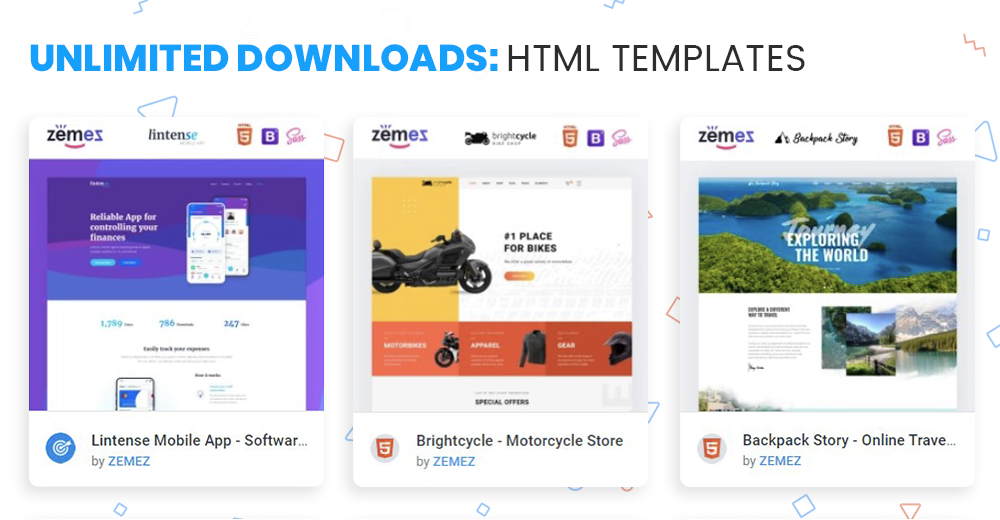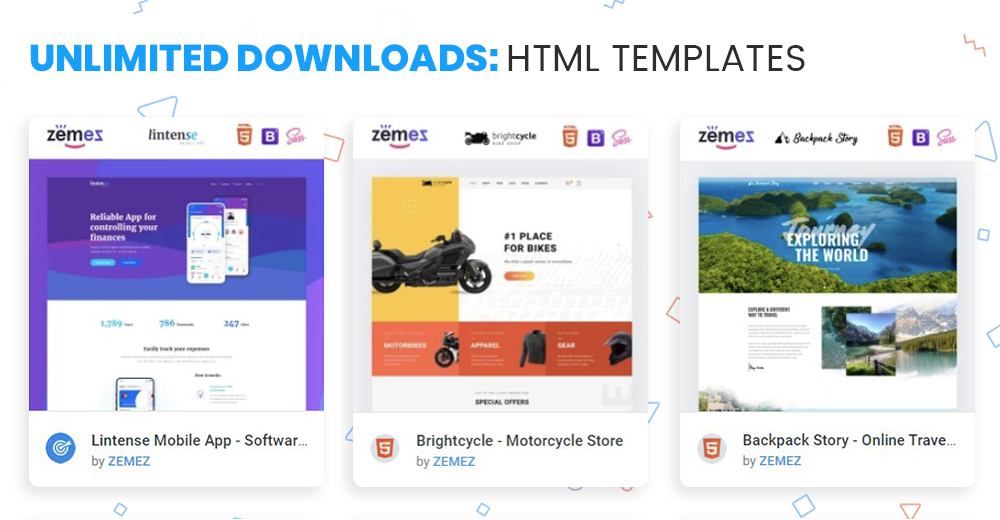 Social Marketing PSD Template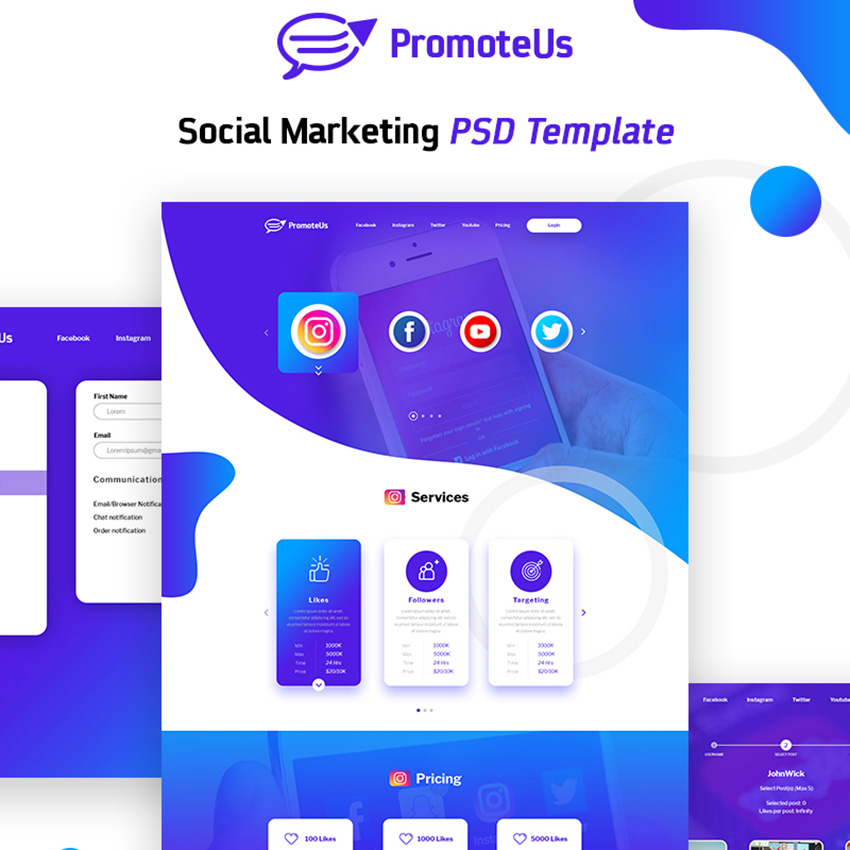 This is another one of the design PSD templates, which is excellent for the aspiring marketing agents. This quality sample provides 14 layers so that each design element is executed on a separate layer. The structure of the template becomes easily visible when it is opened in Photoshop. In such a manner, all parts of a design can be edited independently of each other, and due to the multi-layers, a change in one part of the template will not affect all its different elements.
VISO – One Page Creative Agency PSD Template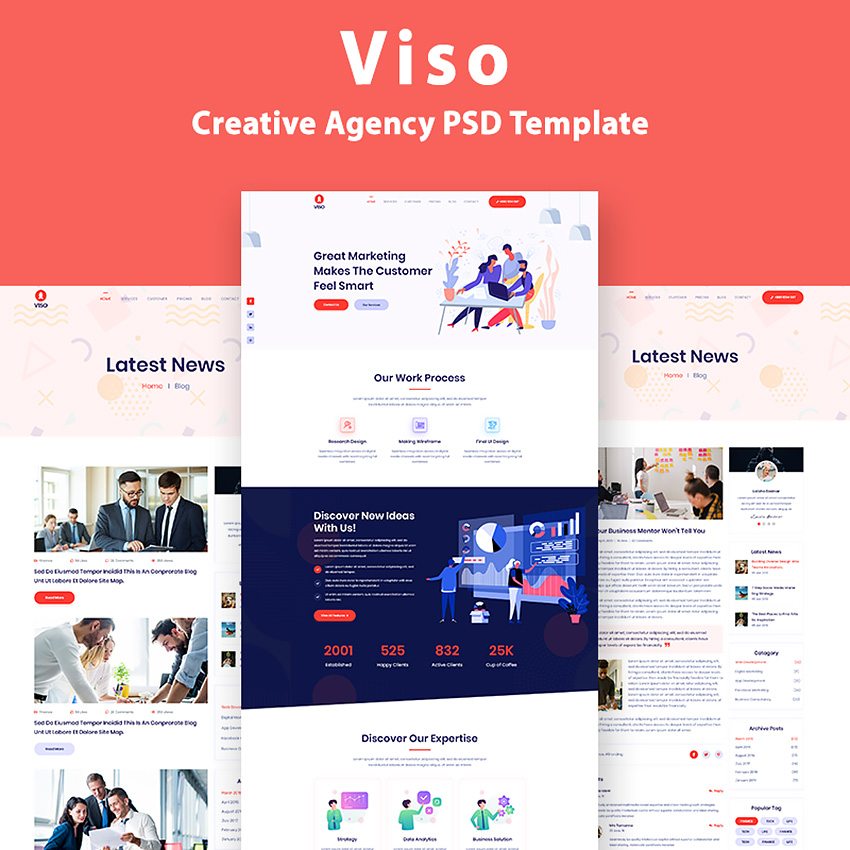 The Bootstrap grid in this set enables you to use the guiding lines when aligning elements of the design Photoshop template for your specific points. This greatly facilitates the layout process, when some parts of the design are cut out and used as images for the background. The Bootstrap system also allows for the use of any CSS and JavaScript components, which can help easily create the functionality and various elements that the project needs.
Fav Interior – Interior Design Company PSD Template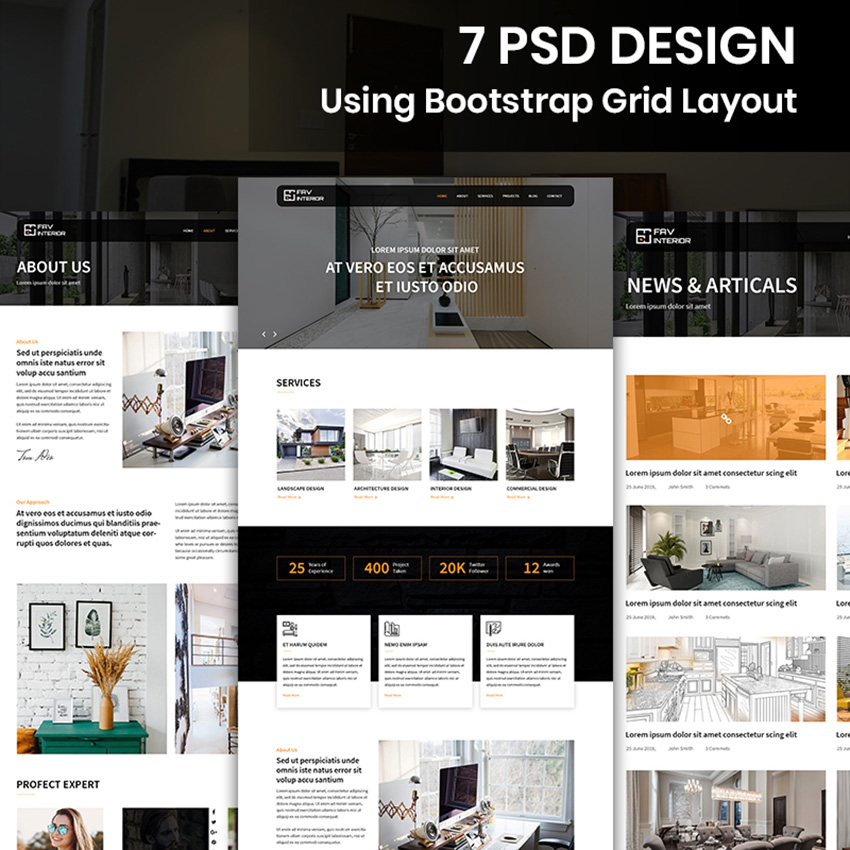 Why consider the photoshop web design templates like this one? First of all, it comes in a full package, free fonts, and icons included, which is a certain time- and cost-saving advantage. It's also based on Bootstrap 4, which is quite popular nowadays for several reasons. One of the most basic is that it allows you to create something of your structure, to choose the color, the size of the containers, and the indentation.
Fashion & Style PSD Template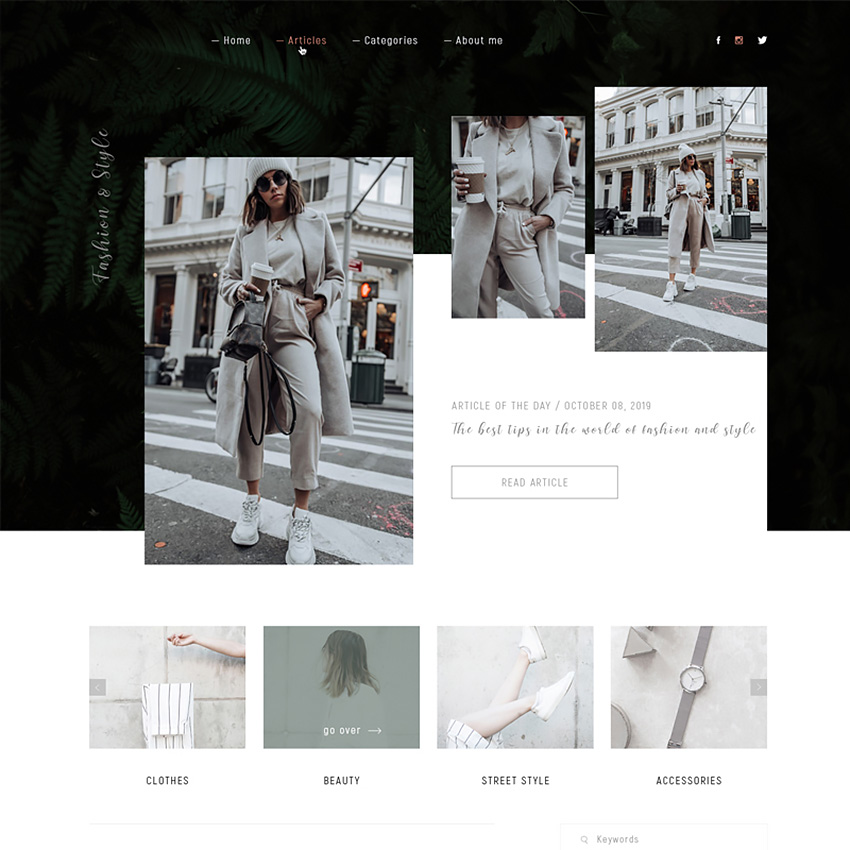 If you need an aesthetically pleasing foundation for your photo business, this representative of the fashion PSD design templates can help you create a photography website. It shows a good taste and is easy to use thanks to the Photoshop smart objects, which are somewhat of a container in which any information is stored. You transform the container, but the content does not change. Practically speaking, with the help of the smart objects, you can make the raster layers behave like vector ones, changing their size, reflecting, rotating, changing everything again and again without losing quality.
Tech Web – Web Design Company PSD Template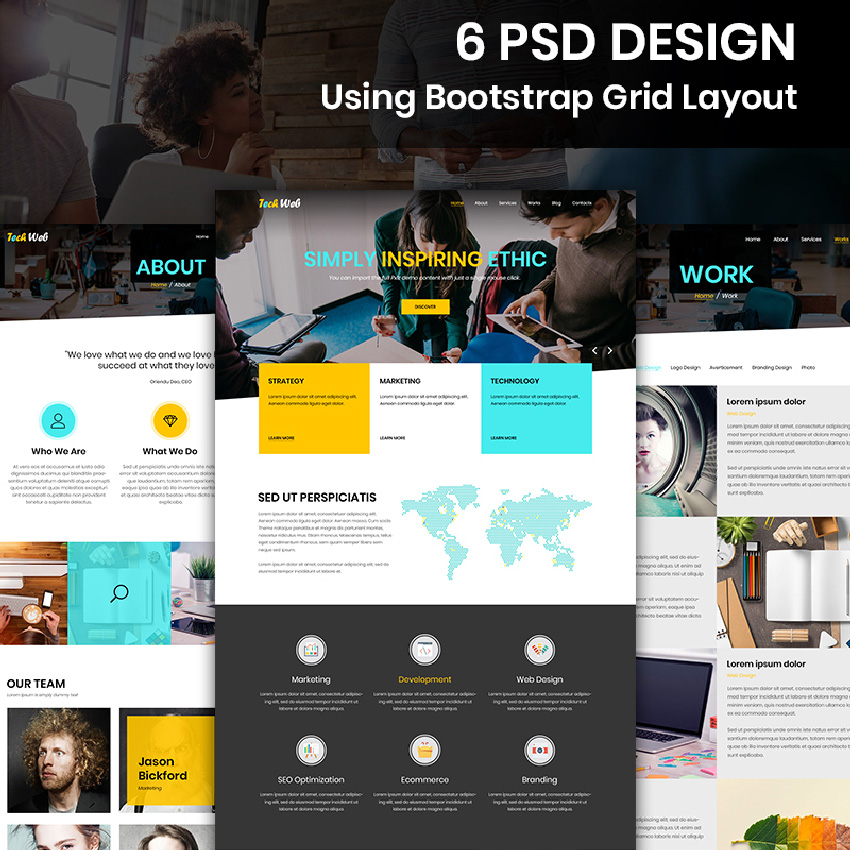 This tech template is fully customizable, and all its CSS and JavaScript files can be modified, so there is no problem while working with them. Regarding the updates, many classes were removed in Bootstrap 4, but additional colors were also added. This allows you to control the location of navigation on the site in more detail, which is crucial for the tech services companies. To advance the administration skills, consider getting to the admin panel. And remember, you can always read the documentation if you want to know more about it.
Ellen's Photography PSD Template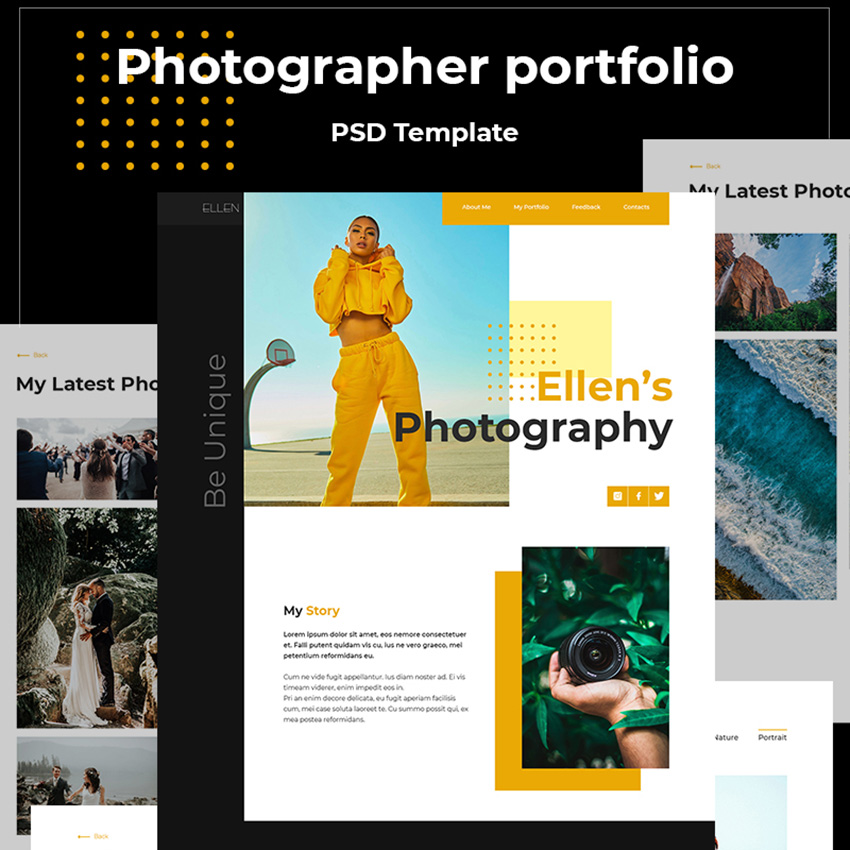 The photography Photoshop template offers it all whether you're a beginner or an experienced professional. Apart from a traditional homepage, there's a page for the most basic of photography categories, such as the family and wedding genre as well as nature and portrait. The main font is Montserrat, which is a new option from the Google fonts collection. It was created recently, specifically for use on the Internet. It has become incredibly popular and widespread because this nimble, smooth sans serif font is perfect for almost any context, including the photography business.
Innota Agency – PSD Template
The mix of a modern feel and minimalistic structure makes this template the right fit for those who're looking for the balance. The Bootstrap framework erases any obstacles in front of you when layouting web pages, you can create both simple standard templates and multiple pages with a thousand elements on them. The 12 column grid is not just a common site container. It can be applied even when marking tiny blocks so that you can make each section of the website as comprehensive as you need.
Siam Photography – Photography Studio PSD Template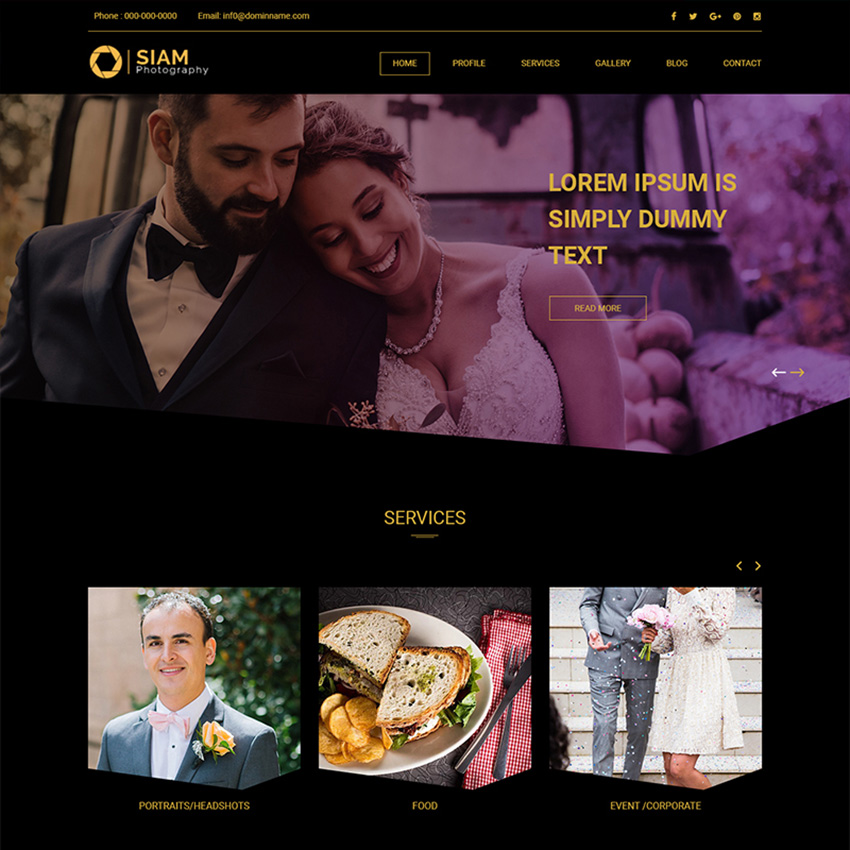 This is one of the most adaptive photography PSD templates that you can find. It allows users to use a Flexbox, which is a layout method that makes it possible to arrange elements on a page in a responsive manner.
This provides a flexible container that can expand or reduce the size of elements on various devices like tablets or smartphones. However, you should take into account that it mostly works with modern browsers, no lower than Internet Explorer 9.
Ugliness- News & Magazine Blogger PSD Template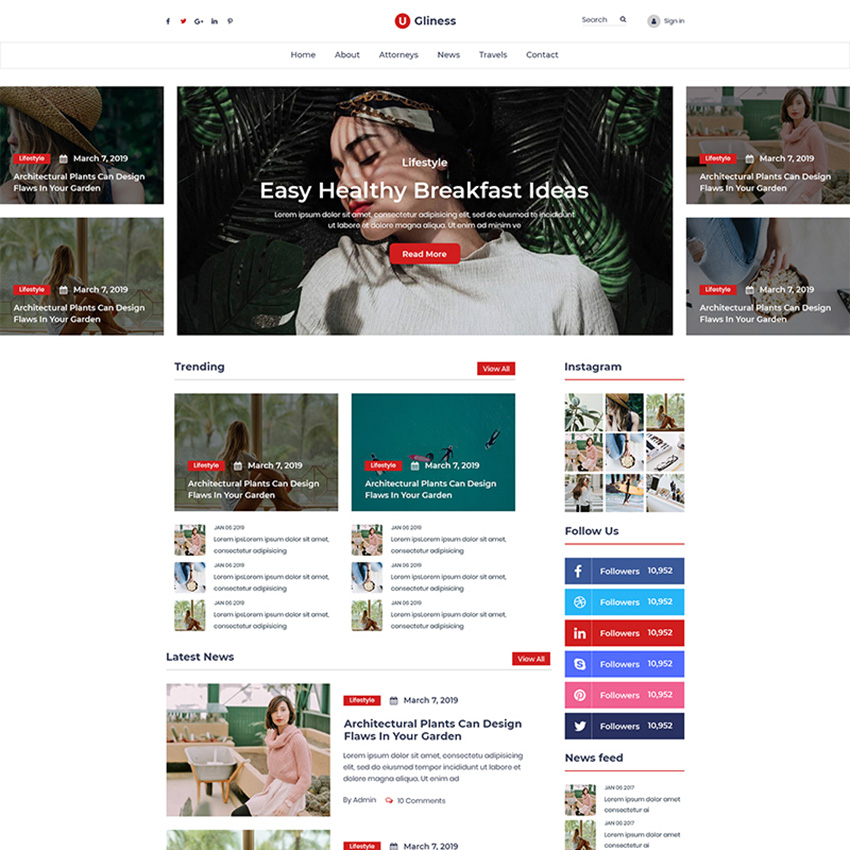 Despite the name, this can be precisely what you're looking for. The two fonts to use within the set are becoming the new standard for the web, and not just for the internet.
Open Sans and Poppins look good both in mobile applications and when printing, and thanks to its neutral appearance. They are perfect for both headings and body text, which means that the articles' graphics will be both readable and nice to look at. The fonts also contain the full range of characters: Latin, Greek, and Cyrillic, so that you aren't limited in the language of expression.
Conclusion
To sum up all of the benefits of the templates, it comes down to the time and efforts you're saving to invest them somewhere else. For example, if you're starting a business, you probably, have a team to organize, and however small it is. It's your job to turn it into a good one (more on the teamwork here). The right template can become a good reference point and framework for the people who work on your idea, which can yield impressive visual results.